Editor's note: Michael Schulder is a senior executive producer at CNN.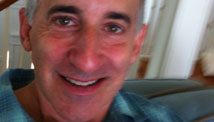 Two hundred and fifty thousand or so Americans are expected to run and complete a half marathon this month. And I plan to be one of them on Saturday. It's my first half.
But I have an advantage over all those other runners - an advantage I got from a mystery woman, whose voice has whispered encouragement into my earbuds from my iPod Nike App since I began jogging two years ago, as I approached the age of 50.
Yes, the mystery woman has said something to me she hasn't told those other iPod App runners.
FULL POST