Editor's note: George Sledge, M.D., is president of the American Society of Clinical Oncologists, the organization of America's cancer doctors, whose annual meeting begins today. Treating cancer can be an extraordinarily difficult field, guiding patients on a roller coaster ride of fear, pain and sometimes true exhilaration. Dr. Sledge shares the story of the patient who made him decide to become an oncologist.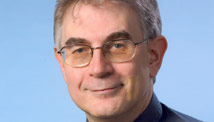 Cancer doctors tend to get to their profession in one of three ways. Some are drawn in through their love of cancer science. Cancer has always been something like a cobra to those who study it: dangerous and beautiful and endlessly fascinating. Cancer is a universe. One can spend an entire life exploring it without ever getting bored, for the biology of cancer is the biology of life.
Some doctors are inspired by a great teacher. Medicine is still a profession dominated by old-world apprenticeships, where a mentor's passion can be transmitted to a new generation. I have known several oncologists whose careers turned on chance encounters with inspiring professors.
Others get there by way of their patients. I'm one of these. When I was a resident, cancer patients were the ones who touched my heart. In fact, I can remember the very moment I started my path to becoming an oncologist.
FULL POST