Anthony Youn, M.D., is a plastic surgeon in metro Detroit. He is the author of "In Stitches," a humorous memoir about growing up Asian American and becoming a doctor.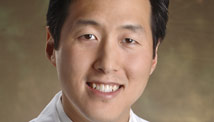 The pair of double-Ds jutting out in front of me look like they would belong on Pam Anderson.
Instead they're attached to a 14-year-old boy.
I whip out a black marker and start drawing on Phil, my first surgery patient of the day.  Phil has severe gynecomastia, or enlarged male breasts.