Editor's note: Madeline Martinez is joining dozens of iReporters who are documenting their journeys from garden to table. Stay up to date on her progress toward a more fruitful way of life on iReport.
Well before her diabetes diagnosis, Madeline Martinez knew her unhealthy eating habits were leading her down the wrong path.
Martinez, a 49-year-old corporate travel agent in Miami, Florida, was 120 pounds overweight — the result of years resorting to fast-food dinners after long days at the office.
When her endocrinologist delivered the news in February - Type 2 diabetes - she got serious. She ditched McDonald's and began shopping at Whole Foods and farmers' markets for organic produce.
Then she went a step further and bought a shovel.

Martinez was determined to find a solution to her destructive eating habits without breaking the bank. In early March, she picked up some plywood and got to work growing organic food right in her own backyard. Seeds for broccoli, cucumbers, tomatoes and lots of herbs went into the ground.
"Home gardening has been in the back of my mind for a long time, but just like the diagnosis gave me the final push to change my eating habits, it also gave me the final push to farm my yard," she told CNN iReport.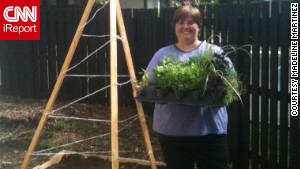 Martinez is down at least 16 pounds and one dress size since her wake-up call in February - a milestone she attributes to both the easy access to vitamin-rich produce and the labors of tending her garden in the Miami heat. She hopes to eventually produce enough vegetables to fulfill at least half of her veggie needs.
"My broccoli has bloomed, my cucumber has produced a beautiful, crunchy, refreshing and tasty salad ingredient, and my herbs are just going crazy," she recently reported.
And she's found the benefits extend far beyond consumption.
"I spend most of the work week in a small, window-less office, so gardening gives me the opportunity to be outside enjoying the sun," she said. "I even do it when it's a little rainy. A few sprinkles of cool rain can do wonders for me. If I'm feeling a little blue it perks me right up."
Martinez has become so passionate about the benefits of growing her own food that she's spreading the green-thumb gospel to her nieces and the rest of the world.
"It does not matter how big or small a place you have, it can be done," she said. "Not only will it benefit your health and your pocket, but if you have small children, it will give you an opportunity to teach them responsibility, the value of hard work, sustainability and how rewarding it can be to eat what you grow."