Editor's note: CNN contributor Amanda Enayati ponders the theme of seeking serenity: the quest for well-being and life balance in stressful times.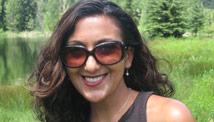 Would you consider embarking upon a mindful spending challenge?
In poll after poll, Americans say that the state of their finances is one of the biggest sources of their stress.
"People are spending money they do not have to buy things they may not need," observed Tony Wagner, Innovation Education Fellow at Harvard's Technology & Entrepreneurship Center and author of "Creating Innovators: The Making of Young People Who Will Change the World," during our recent interview.
While researching his book, Wagner discovered that more than 70% of our economy is based on consumer spending. Increasingly, over the last 20 or so years, that consumer spending has been fueled by debt. The savings rate in 2007, immediately before the economic collapse we are still slogging through, was negative 2%. That kind of spending is unsustainable, said Wagner, "economically, environmentally and spiritually."
When we consider mindfulness, most of us think of yoga, meditation, even mindful eating - not the way we spend.
But our spending habits are often mindless and automatic, like a constantly dripping faucet, as we dig ourselves further and further into debilitating debt. Embarking upon a mindfulness practice when it comes to spending can help reduce stress and improve mental and physical health, according to a significant body of scientific research on the practice of mindfulness.
It also provides us with a greater sense of control. It introduces an individually driven, spiritual aspect of the solution to our larger economic problem, and gives each of us the opportunity to reflect and gain important insights about our relationship with money and why we spend it.
Dr. Jan Chozen Bays, author of "How to Train a Wild Elephant & Other Adventures in Mindfulness," believes that most of us would be well-served by practicing greater mindfulness in all areas of our lives, including spending. She defines mindfulness as "deliberately paying full attention to what is happening around you and within you—in your body, heart and mind. Mindfulness is awareness without criticism or judgment."
Bays offers a few important suggestions for those interested in undertaking an exercise in conscious, mindful spending.
Surf the urge
Bays suggests that every time the impulse arises to buy something, you ask yourself: Do I really truly need this? Do I need it now?
This is called "surfing the urge," a technique also used with eating disorders. When the urge arises to acquire something, surf it, stay with it for a while.
Bays asks: "How many times have you thought: 'I need one of these things' and for some reason you can't get to the store. Then later you can't even recall what it was you needed. The urge that seemed so compelling at the time disappeared entirely."
She recommends building in a delay while you question whether you truly need to make the purchase. What are the alternatives to buying? What if you save the money instead?
Question the desire
"We have a notion that our desires need to be satisfied right away. We have this urgent need for instant gratification," says Bays.
But what is the need you are trying to fulfill? Are you really hungry? Are you anxious? Do you need a distraction?
You must determine whether what you want to buy will truly make you happy, or if it will just keep the endless wheel of desire going.
Avoid habitual momentum
We can get caught in our habits and keep going along a well-worn track, but momentum often comes from habit and impulse, not from being present, says Lee Lesser, a teacher of sensory awareness, a mindful meditation technique. Lesser recommends resisting the momentum and becoming more conscious and deliberate about spending habits.
Stay with discomfort
Life is not always comfortable, and many of us have a problem being present with that reality. It's so easy to be disconnected. We get caught in our thoughts and worries, and in what we think will fill up the space and take away pain.
But you will encounter suffering in life. We try in modern society to deny that, to buy our way out of it - but of course you can't, says Bays. None of us can, not even the wealthy.
Mindfulness teaches us that there is no place to go but here, in the present moment, observes Lesser. When we are able to focus on the present, the discomfort changes and we can offer attention to things in a way that is meaningful and comforting.
Rest in your breath
Lesser recommends that you pause and focus on your breathing. Becoming mindful of the breath can be profoundly comforting. Use the sensation of your breath as an anchor for consciousness in the present moment. You may eventually widen this awareness to include other senses - sight, sound, smell, touch and taste.
Offer real intimacy
Resist the idea that you can make yourself, your children and your grandchildren happy by buying them stuff.
"What we really want, what our children really want, is true intimacy, a sense of connectedness," says Bays. Research shows that true intimacy reduces stress and is protective during traumatic times. A sense of security reduces stress hormone levels in the body.
"Children want your time, your attention, your love." These are the things that truly make us happy. The desire for material things is only satisfied briefly, and then more desire arises.
Value your life's energy
Ultimately, says Bays, money is a symbol of energy. It's a way to buy energy, to trade energy.
Before you make any purchase, ask yourself whether it's worth your effort and your (or someone else's) life's energy. Would you prefer to use it to buy yet another pair of shoes, or would you rather spend it in another way? Save it, perhaps, or use it to go on a retreat or vacation that may change you or expand who you are, in some substantial way?
"Perhaps you decide you prefer the shoes," notes Bays, "and that's fine. Just be sure you're making that decision consciously."
Opt for true satisfaction
In the end, says Bays, we all want to be happy, but not the happiness we see in advertisements, where you are on the roller coaster, laughing hysterically and holding up a can of soda!
We want the simple kind of happiness, the kind that does not come from stuff.
There are things we need to sustain ourselves. For everything else, pause and consciously consider: Will this buy me happiness? Or will it go on to contribute to more stress, anxiety and dysfunction?
Follow @amandaenayati on Twitter or at facebook.com/amanda.enayati