Dr. Anthony Youn is a plastic surgeon in metro Detroit. He is the author of "In Stitches," a humorous memoir about growing up Asian-American and becoming a doctor.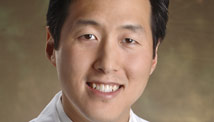 Two days ago, I saw a commercial for Jenny McCarthy's show, "Love in the Wild." I suspect that I'm not the only physician who's happy to see her host this dating program.
It's a better alternative than the role she's held for the past several years: health care adviser.
For years, celebrities have acted as health advocates in the media. Most have limited themselves to pitching products. Wilford Brimley, a diabetic, acted as a spokesperson for Liberty Medical and their at-home diabetes treatments. Larry King has publicly endorsed Garlique, a garlic supplement that could help people with high cholesterol. More recently, soap star Lisa Rinna has endorsed Depends adult undergarments, even wearing them on the red carpet for charity.

Some celebs have stepped beyond product pitching to use their influence to promote health care research. Michael J. Fox has done wonders for encouraging new treatments for Parkinson's disease. The late Christopher and Dana Reeve brought spinal cord injury research into the national spotlight. And who hasn't worn a yellow Livestrong bracelet, promoted by Lance Armstrong as a way to help fund cancer studies?
Although these celebrities should be praised for their health care advocacy, others have used their influence to promote highly questionable medical theories.
Suzanne Somers has written more than 19 books on health, beauty and wellness. One of the most popular, "Ageless," promoted bioidentical hormones. But according to Dr. Margery Gass, director of the University Hospital Menopause and Osteoporosis Center in Cincinnati, "There's absolutely no sound evidence that [bioidentical hormones] are any safer or more effective," than traditional hormone therapy. In fact, these products, which are typically made in compounding pharmacies or derived from plants, have been described as "potentially dangerous" by the Food and Drug Administration.
And who can forget Tom Cruise's bizarre anti-psychiatry rant on the "Today" show? While physicians readily admit that we don't know exactly why certain psychiatric treatments work, patients' symptoms are undeniably improved by them.
Arguably the worst cases of celebrities as health advocates involve those who promote a link between autism and childhood vaccines.
Some pediatricians are blaming the recent increase in vaccine-preventable diseases on parents opting out of vaccinations for their children. Many of these parents have been influenced by anti-vaccine celebrities. A University of Michigan survey found 24% of Americans place "some trust" in the information provided by celebrities on vaccine safety.
McCarthy has been the most vocal critic of childhood vaccines, placing blame for her son's autism on his vaccinations. Since 2007, she's appeared on numerous programs, including "Oprah," making claims about vaccines and autism that aren't supported by peer-reviewed, scientific research.
One study she has cited, Dr. Andrew Wakefield's landmark 1998 Lancet article, has since been thoroughly discredited and retracted.
So where are we now?
Vaccine-preventable childhood diseases are making a comeback. In 2010, nearly 10,000 cases of pertussis, or whooping cough, were diagnosed in California, the most since 1940. In 2011, the number of measles cases in the United States reached a 15-year high.  California is now taking matters into its own hands. State Assemblyman Richard Pan, a doctor, recently introduced a bill that would require parents to get counseling from a doctor before opting out of immunizations for their children.
As celebrities continue to exert their influence on the perceptions and beliefs of Americans, physicians are finding that we have to spend more and more time with our patients correcting misinformation.
I hope that bills like the one introduced in California cause celebrities take their influence seriously. With great power and influence comes great responsibility.
The opinions in this commentary are solely those of Dr. Anthony Youn.