Anthony Youn, M.D., is a plastic surgeon in metro Detroit. He is the author of "In Stitches," a humorous memoir about growing up Asian American and becoming a doctor.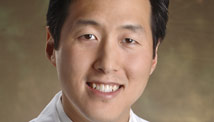 I've always taken my mom for granted. A lot of us do.
I never realized just how strong and selfless she is.
Then tragedy struck.
In many ways, my mother is the stereotypical Asian mom. Forty-five years ago she immigrated to the United States with my father, a physician. A classic homemaker, she spent her days raising my brother, sister, and me. In the evenings, after my dad returned home for work, she would take care of him.

Growing up, my mom was my protector. When kids would call me racist names and threaten to beat me up, it was my mother who came to my rescue. This 5'1" Korean immigrant, who spoke broken English, would stand up to the biggest bullies in my elementary school.
Several years ago I received a call from my father. My mom had exercised in the early evening and then began to feel short of breath. My dad rushed her to the emergency room. By the time they got there, she could hardly breathe.
The doctors diagnosed her with sudden onset heart failure - one of the valves of her heart had stopped functioning, causing a backup of fluid into her lungs.
My mom was literally drowning from the inside out.
I rushed to the hospital that evening and saw her. She was awake but struggling to breathe. Upon seeing me, she smiled.
"Oh, Tony, you shouldn't have come here. You're so busy with residency. Go home and get some rest," she said, waving me off.
I spent the next several hours by her side. The next day, she was scheduled to undergo open heart surgery to repair her faulty valve.
In the moments before her operation, my brother, sister, father, and I stood next to her gurney. I smiled at her through teary eyes. My mom, seeing our concern, tried to reassure us.
"I'll be fine. I'm in God's hands now. Go eat some breakfast. You're probably all so hungry!"
After several moments of silence and small talk, she was wheeled into the OR.
The operation was a success.
After surgery my mother was transferred to the Cardiac Intensive Care Unit, while still on the ventilator. We went to visit her.
"She's doing great," her nurse told us. "She's a real trooper. Most patients don't tolerate having a breathing tube down their throat while awake. But your mom is handling it like a pro."
The nurse was right. Even with the breathing tube in, my mother looked calm and peaceful. We all walked up to her.
"Mom," I said softly. She opened her eyes. "Are you ok?"
She nodded.
"Make sure you stay still and don't pull out your breathing tube. It's important to keep it in place until you're ready to breathe on your own."
She nodded again and smiled at me.
As a surgeon, I've taken care of hundreds of patients on ventilators. The majority of them need large amounts of sedatives to prevent them from pulling out their breathing tube. It's an incredibly uncomfortable feeling to have this tube extending down your throat.
Yet my mom handled it better than any patient I've ever seen.
Do you know who the toughest patients are? Ask any doctor or nurse. It's not construction workers. Not tattooed bikers. Not even professional athletes.
It's moms.
Moms go through more physical and emotional pain than most men can imagine. As a father, I now understand the connection between a mother and her child. It's stronger than just about anything else in the world.
I am thankful for the doctors who saved my mom's life. I am thankful for the hospital staff who cared for her. But most of all, I'm thankful for my mom.