Editor's note: CNN contributor Amanda Enayati ponders the theme of seeking serenity: the quest for well-being and life balance in stressful times.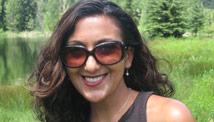 Last week we responded to your questions about some of life's most stressful circumstances. Is it any surprise that the themes running through our experts' advice read like a laundry list of wisdom from the elders?
If you do not care for yourself, you will not be able to care for others.
Figure out what's truly important and do not look for perfection.
Do your best to remain in the present moment, free of the shackles of the past and fear for what the future holds.
All of these are far easier said (and written), of course. It is the execution that's most difficult.
The first step is awareness. With that in mind - here are some more of your stress questions answered:

Once again, our panel of experts included UC Davis professor Jay Belsky, a developmental psychologist and an internationally recognized expert on the role of nature and nurture in shaping children and families; Dr. Judith Orloff, professor of psychiatry at UCLA and bestselling author of "Emotional Freedom"; and Dr. Rajita Sinha, professor of psychiatry, neurobiology and child study at Yale University and director of the Yale Stress Center.
Done in by single parenting
My husband's always traveling so I'm effectively a single parent. I'm overwhelmed with too much to do and not enough time.
Balancing is an art form, observes Orloff. It's important to be able to take time out to center and replenish yourself. Build energy through meditating, laughing or engaging in something other than your tasks. Get beyond the to-do list and make time for yourself. "Go hide in the bathroom, if you must!"
According to Belsky, it is critical to prioritize what is more and less important. If the house is messy, that's not the end of the world. "Sometimes people have to lower their standards and expectations," he says. "You are better off being sane mom than super mom."
Sinha suggests that single parents strategize about organization and time management. Rethink and moderate children's often-hectic schedules. She also stresses the importance of keeping oneself regulated: "Eat enough, and get enough sleep and exercise."
When money is tight
How do I better handle financial stresses that limit how much money I have to spend on all the things we need, like childcare and home maintenance?
The key, says Belsky, is to distinguish between wants and needs. We live in a day and age where the media and advertising want you to believe that your wants are your needs. They are not. Less is often more.
A good first strategy is to stop looking at advertisements. Turn the sound down; skip over them in newspapers and magazines. When it comes to services, is it possible to do non-monetary exchanges with friends and family for things like childcare and home maintenance?
Belsky points out that using your money thoughtfully and frugally is one of the best lessons you can teach children. Just because everyone has something doesn't mean everyone needs it. This can serve as an opportunity to figure out what has value and what does not.
Internalizing stress
I'm stressed daily and I internalize it. It manifests in skin issues (I have psoriasis). I can't meditate very well and I don't feel like I have the time or patience to learn. What else can I do?
Learn to focus on positive things in your life, says Belsky. This takes discipline and practice, because it's often easier to focus on the stressful. You have to build up the psychological muscle to focus on the good.
"Have a place you can go to in your mind: the beach, your child's first steps. Close your eyes and go there during stressful moments. Use it as a place to move away from the wallowing and dwelling."
Orloff also recommends writing in a journal to "get out all the raw feelings, your anger and frustration, so you don't hold them in." If you don't feel like writing, confiding in a trusted friend can work equally well.
Evolution of stress
Why is the fight or flight instinct still so strong? It's not like we're running into tigers in the jungle anymore; we're sitting in traffic jams! Why can't our bodies adapt and stop wreaking havoc when we get stressed?
Evolution, says Belsky, isn't forward-looking. It's backward-looking. It prepares us for the things we have encountered in the past, not necessarily for what we will encounter in the future. That is, you may be dealing with modern-day problems, but your instincts are still somewhere back in the jungle.
The survival instinct is very basic in all living organisms, says Sinha. And even though we are not facing tigers in the jungle, we still may have crises - natural disasters or violence - for which we need our fight or flight response.
Nonetheless, our regulatory system has undergone a great deal of cognitive and emotional adaptation. Our prefrontal cortex has become more complex and sophisticated. But since those regions of the brain are more sensitive to high levels of chronic and repeated stress, it's vulnerable to not functioning well under certain everyday types of situations, like stressful commutes.
Orloff says it's important to take control and consciously turn off the stress and negative emotions.
"Stop and expressly remind yourself that more than likely your life is not in danger, that you are just sitting in traffic."
One simple way to take control? "Listen to mellow music during your commute," suggests Orloff.
Caretaker blues
My father is suffering from dementia and I have had to drop my whole life to take care of him. I feel stuck, like there's no way out, and then I also feel guilty for feeling that way, which makes me more stressed.
The first thing you can do, says Belsky, is forgive yourself and accept those feelings of resentment, frustration and anger.
"By having unreasonable standards and expectations, you risk draining the tank and beating up on yourself all at the same time."
Orloff believes that though it is a sacred duty to care for our loved ones when they are in need, you also have to take care of yourself.
"There's no reason to feel guilty about the feelings of anger and helplessness. It's natural. There is never enough time and you can't do enough work."
Join a support group of others who are coping with the same issue, she recommends. This will allows you to gain perspective and realize you are not alone.
And if it's at all possible, hire an occasional caregiver or helper so that you can take time off for yourself.
"If you don't practice self-care," observes Orloff, "you will never be able to give quality time to others. You will just be run down and miserable."
According to Sinha, caretaker anxiety is another form of pernicious, uncontrollable stress, similar to financial stress. "The person feels stuck and cannot meet his or her own needs."
Sinha suggests seeking out the help of a mental health professional and agrees that it's critical for caretakers to take time out for themselves. "Positive activities on an ongoing basis will build optimism and give caretakers strength. This should be part of their routine. Once here and there is not enough."
Information overload
The news makes me panic. Even things like Facebook and Twitter and TV that are not meant to be bad make me panic. But it's not like you can go off the grid and live your life without any technology, so what do I do?
Orloff recommends taking periodic technology fasts.
"Give yourself a dark period, like 3 to 6 hours where you are not focused on any type of technology." She also cautions against watching the news before you go to bed because it may disrupt your sleep. "You will risk having insomnia, restlessness and bad dreams."
Build activities that don't involve technology into your schedule. Take a walk mindfully. Get back to your break. Validate what's going on inside.
"Facebook will always be there," says Sinha. "But this moment is never going to be there again. It is fleeting."
Follow @amandaenayati on Twitter or on Facebook