Editor's note: Gary Marcus is a cognitive psychologist and author of the book "Guitar Zero." He is the director of the New York University Center for Language And Music.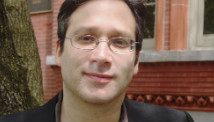 The idea that learning a new skill - say juggling, cooking, or playing guitar - can be like an addiction is no joke.
I should know. As a college professor/scientist, who has written about the dynamics of narcotics and self-control, I have spent the last 3 1/2 years all but addicted to learning to play guitar. Despite lacking anything that might remotely resemble musical talent, I find no day is complete without at least a little bit of time on the guitar.
Even listening to music can be a little like a drug. A brain imaging study that came out last year proved what many scientists long suspected: Listening to music can lead the brain to release the neurotransmitter dopamine. Dopamine is the brain's universal signal for pleasure, an internal system that tells the brain (sometimes rightly, sometime wrongly) that it is doing the right thing.

Drugs elicit dopamine artificially by fooling the brain, while activities like sex and eating elicit dopamine naturally. Listening to music taps into the dopamine system in part because hearing something new is a signal that the brain is learning something, and we have evolved to enjoy acquiring new information.
Shortcuts like drugs, however are fleeting. Although narcotics can elicit dopamine fairly directly, over time it takes a bigger and bigger dose to get the same rush, and can lead people to destroy families, risk their health and even lose their lives.
Learning new things is a lot safer, and ultimately a lot more satisfying.
There is a myth that children (and for that matter adults) don't really enjoy learning new things, but as every video game maker has realized, the truth is just the opposite. From "Space Invaders" to "Halo," "Grand Theft Auto" and "Zelda," practically every video game is in part about mastering new skills.
As video game designers realized long ago, if you can keep a player poised on the knife's edge of conquering new challenges, neither too easy and too hard but square in what the cognitive psychologist Vygotsky called the Zone of Proximal Development, you can keep gamers engaged for hours. As long as we constantly feel challenged but never overwhelmed, we keep coming back for more and constantly sharpen new skills.
The trouble, though, with most video games lies in what they teach, which often stays with the game when the game is complete. A game that makes you good at shooting aliens may have little application in the real world.
Learning a more lasting new skill - be it playing guitar or learning to speak a foreign language - can equally harness the brain's joy of learning new things, but leave you with something of permanent value, in a way that neither drugs nor video games ever could. It leaves you with a sense of fulfillment, which goes back to what pioneering psychologist Abraham Maslow called "self-actualization."
As Aristotle realized, there is a difference between the pleasures of the moment (hedonia), and the satisfaction that comes from constantly developing and living one's life to the fullest (eudaimonia). In recent years, scientists have finally begun to study eudaimonia. Research suggests that the greater sense of purpose and personal growth associated with eudaimonia correlates with lower cortisol levels, better immune function and more efficient sleep.
From the strict "Selfish Gene" perspective - in which all that we do is driven by the self-perpetuating interests of our individual genes – hobbies like playing music rarely make sense, especially for mere amateurs. But maybe the art of reinvention and acquiring new skills, even as adults, can give us a sense of a life well-lived.
According to a 2009 Gallup Poll, 85% of Americans who don't play a musical instrument wish that they could. Why not start today? As it happens, this week is National Wanna Play Music Week, a perfect time to pick up a new skill that will bring satisfaction throughout life.
What stops many people from learning something new is the thought that they are too old, not good enough or just plain busy. If my own experience is any guide, none of these matter much. Taking up an instrument (starting at age 38) has been one of the most challenging but rewarding things I've ever done.
So long as your goal is growth rather than stardom, learning something new may just turn out to be one of the most rewarding things you ever do. Your brain will thank you for it.