Editor's note: CNN contributor Amanda Enayati ponders the theme of seeking serenity: the quest for well-being and life balance in stressful times.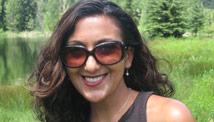 Earlier this week we put out a call over social media for your questions about stress and anxiety. We received a slew of insightful queries, covering a wide spectrum of life's stressors.
Due to the number of submissions, we had to combine some questions and divide our lightning round into two parts. Make sure to check back next week for part two, along with a synthesis of our experts' advice.
Our panel of experts includes:
UC Davis professor Jay Belsky, a developmental psychologist and an internationally recognized expert on the role of nature and nurture in shaping children and families
Dr. Judith Orloff, professor of psychiatry at UCLA and bestselling author of "Emotional Freedom"
Dr. Rajita Sinha, professor of psychiatry, neurobiology and child study at Yale University and director of the Yale Stress Center
I love my kids but...
I adore my four little (but lively) children, but they stress me out. How can I better handle the stress of raising children, along with everything else that I have to do?
This is a very common concern among parents. You need to find ways to relax and reduce your anxiety, whether it's having a glass of wine (but not 3 or 4!), going to the gym, talking to a friend or meditating. Take time to remind yourself of the purpose of what you are doing, says Belsky. There is nothing more important than taking care of your children.
There are also ways to make life with children less stressful. For example, institute a quiet time during some part of the day, when each family member goes someplace and does an activity by him or herself, like reading or listening to music.
Learn how to set good boundaries, suggests Orloff. Set aside time alone to replenish because you cannot keep going non-stop. Mini-breaks can do wonders.
Sinha recommends seeking family and social support, when possible. This also benefits children, who love to interact with and hear stories from other family members, like grandparents. Sinha also emphasizes the importance of taking breaks.
Financial catastrophe
I lost everything. First my job, then my savings and finally my home. What now?
People have to deal with major adverse life events. This is uncontrollable stress, and it has the worst kind of impact in terms of a person's ability to function.
First, accept what has happened and then attempt to move beyond it. The most important thing is to optimize your own regulatory capacity, because it can affect your ability to problem-solve and come up with solutions effectively. Unrelenting stress can break that down.
And though your circumstances may be challenging, it's crucial to keep yourself in a positive and optimistic place. Seek help, get support and remember that there are many examples of people going through incredible catastrophes and coming out stronger.
Belsky emphasizes the importance making external, rather than internal attributions about the cause of the adversities. Never forget that in many cases you are the victim, not the culprit, he says.
"Don't take ownership and responsibility for something you did not do. That's not going to put money in your pocket but it will prevent you from beating up on yourself."
Be super-present and do not catastrophize the future, recommends Orloff. Focus on what you have. You must come at this issue from a very calm and centered place. People tend to work themselves up with worry. They can't eat or sleep and then the situation deteriorates even further. Consider what you can do in the present moment.
Nature or nurture?
How much of stress and anxiety is nature versus nurture?
You can't attribute a set percentage of stress to genetics versus nurture, says Sinha. Nature gives us a certain predisposition, a basic structure for stress response. Some people are more reactive and some are less so. Nurture overlays that genetic structure and can support either the suppression or expression of those genes.
Belsky also observes that some people tend to have a lower threshold for stress. A bit of noise can discombobulate one person, whereas another can tolerate cacophonous sounds. For some, nature is more important and for others nurture is. But, he cautions, we can't truly ever know whether someone's high anxiety levels are due to nature or nurture; it could be low tolerance or it could be because the person never learned to cope.
While some of us may have been born more stressed-out and anxious than others, according to Orloff we create a lot of our own stress with the stories we tell about it. Many of Orloff's patients create inordinate amounts of anxiety because of their unrelentingly negative thought patterns. She suggests taking control of your mind to create a more positive reality.
"Be grateful for your breath, your life and what you have. If you choose your thoughts, you won't get sucked into the vortex of negativity."
You versus food
Food is freaking me out. I have no idea what we're supposed to be eating anymore. It's as if everything is bad for you and will kill you.
Don't be obsessive, says Orloff. There are people out there who won't allow themselves a treat, but then the deprivation leads to binge eating. The bottom line is that you have to have a balanced attitude about food.
Sure, it can be complicated, observes Belsky. But it can also be simple. The less junk food, the better. The more fruits, vegetables, cereals and whole grains, the better. And you certainly don't have to aspire to eat a perfect diet all the time.
Sinha recommends seeking the help of a nutritionist or certified dietician; both are often covered through health insurance plan as a health and wellness visit. These experts can help you track your present diet and make suggestions for healthier alternatives. They can also help develop sensible and sustainable meal plans.
Family and other black holes
My mother is the black hole of joy, but she's my mother. How do I deal with her negativity?
You have made a good start by having an understanding of who your mother is and how she makes you feel, says Belsky. You have to give yourself credit for understanding the situation because that will help guide how you proceed.
Orloff addresses "emotional vampires" in her book, "Emotional Freedom." These are people who will suck you dry and, unfortunately, some mothers can be emotional vampires.
Orloff warns against engaging negative people. "Don't give emotional vampires any energy because they will keep going."
When they get negative or begin criticizing, set limits (by leaving, for example) or change the subject. People go wrong when they start engaging or believing the vitriol.
We cannot control others' behavior and outlook, observes Sinha. People frustrate us because we want them to be different. There are two key points here.
The first is that you must accept people for who they are - good and bad. Their lives, genes and stressors have helped to shape them. Perhaps understanding where someone came from may help explain who he or she is now. But there is no light switch to make a person change; only a process of accepting him or her.
The second point is that you do not have to change who you are. You have the right to have positive interactions and good energy in your life. Sometimes to make that happen, you need to get away from someone - and that's okay too! But either way, the first step is acceptance.
Next week we'll look at caretaker blues, internalizing stress, single parenting, the evolution of stress and information overload.
Follow @amandaenayati on Twitter or on Facebook.