Anthony Youn, M.D., is a plastic surgeon in metro Detroit. He is the author of "In Stitches," a humorous memoir about growing up Asian American and becoming a doctor.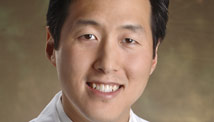 The pair of double-Ds jutting out in front of me look like they would belong on Pam Anderson.
Instead they're attached to a 14-year-old boy.
I whip out a black marker and start drawing on Phil, my first surgery patient of the day.  Phil has severe gynecomastia, or enlarged male breasts.
Phil was brought to me by his grandmother, who raised him since he was ten.  Apparently he was a well-behaved kid and good student until puberty hit.  Like most maturing boys his voice deepened and his height increased. Unlike most other boys, however, he began to sprout breasts.
His breasts grew and grew until they drooped down to the middle of his abdomen.
Phil's grandmother noticed him becoming more and more withdrawn.  His friends abandoned him.  Kids taunted him.  His grades suffered.  He even failed physical education after refusing to take his shirt off.  Phil's grandmother decided to take control of the situation and made an appointment for Phil to see me.
At the consultation, Phil was mostly quiet.  He let his grandmother do the talking.  Then, at the end of the appointment his sad eyes stared into mine.  With a quivering voice he asked, "Can you help me?"
"Yes," I replied, with as much confidence as I could muster.
Three weeks later, here we are.
--
Phil is part of a new trend in plastic surgery.  More and more men are signing up to have work done.  According to the American Society for Aesthetic Plastic Surgery, in 2011 more than 800,000 men underwent cosmetic procedures, an increase of 121% since 1997.  Gynecomastia reduction, one of the most popular surgeries, was performed on nearly 18,000 men.  Botox was the most common procedure overall, with over 260,000 men undergoing injections in 2011.
Possibly the biggest factor influencing the rise in male plastic surgery is improvement in techniques, devices and products.  Looking refreshed and rejuvenated has never been so easy.  Gone are the days when patients had to deal with lengthy scars and a 'wind tunnel' appearance.  Bags under the eyes and bumps on the nose can now be removed with no visible scars.  Injectables like Botox and Restylane can  reduce wrinkles while avoiding the knife.  And new laser treatments can smooth the skin without any downtime at all.
Still, cautionary tales remain.  Because most plastic surgery procedures were developed with the female face and figure in mind, they must be performed differently on men.  Otherwise male patients can be left looking feminized and unnatural.  One look at Kenny Rogers, who famously admitted to having undergone botched upper eyelid surgery back in 2006, will confirm this risk.  He gambled with plastic surgery and lost.
So what about Phil?
--
Phil's surgery goes well.   I lop off his breasts with a scalpel, cut off the nipples and suture them back onto his now flat chest as skin grafts.  The whole procedure takes 90 minutes.
Eight pounds of breast tissue lighter, we sit him up on the operating room table.  His chest has gone from massive and saggy to flat and tight.  His areolas have decreased in diameter from the size of pie plates to quarters.
Three months later Phil and his grandma see me for his final postoperative visit.  His demeanor has changed from sad and withdrawn to friendly and energetic.  It's as if a cloud over his world was lifted.  As he walks out of the exam room, he stops and gives me a big, devilish grin.
Then he says something that makes my day.
"Dr. Youn, guess what?  I have a date tonight."
I can't help but smile back.