Editor's Note: Carlos Solis is an elementary school teacher from Ontario, California, and a member of the 2012 Fit Nation Triathlon Challenge team known as "The Lucky 7."  Each team member is given the tools they need to prepare to compete in the Nautica Malibu Triathlon in September alongside Dr. Sanjay Gupta.
As a teacher, I have always wanted to "pay it forward;" I believe that comes out of gratitude for making it out of something a lot of kids I hung around with didn't.
One special teacher, Mr. Shackleton, helped me believe I could change my life. Prior to becoming a teacher in 1997, I held down various jobs but I was always volunteering to help kids. I even worked at a group home as a house parent for abused and neglected children.
If you are a teacher reading this, the term "making a difference" means something to you. For me, it means doing whatever it takes to help make a difference in the life of any student I come into contact with.
Along with a quality education, I have always worked to instill character values to help students overcome obstacles in their lives: bullying, problems at home, academic struggles, peer pressure, etc., but never really took a serious look at how their current health issues could have an effect on their future.

I want my students to be healthy in mind and body. I want them to learn they can start making healthy choices right now that will benefit them for a lifetime.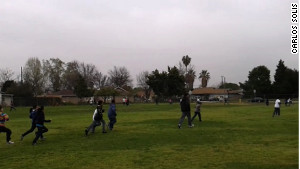 Since the start of my triathlon journey, I have wanted to set an example and make a difference in the lives of my students by helping them to be more physically active.
As I was trying to figure out how to do that, I was reminded of the 100 Mile Club our son belongs to at his school. He has been a 100 Mile Club member for two years now and has enjoyed every minute of it. Every Thursday after school his 100 Mile Club runs and walks for one hour, with the goal of getting to 100 miles over the course of the school year. The kids get shirts and rewards that indicate how many miles they run.
According to the organization's website, "Participants utilize and experience life-skills based on The Pyramid of Success, designed by the legendary basketball coach, teacher, and 100 Mile Club mentor, Coach John Wooden. Once a child gets a taste of the deep and powerful intrinsic rewards of true, TRUE personal success, he or she will seek that feeling again and again… at school, at home, and in life."
I know on a personal level that our son went from being indifferent to excited and motivated to improve his mileage each week.
So, with a little more research, I contacted founder Kara Lubin and began the process of starting a club at our school. After introducing the idea to my principal, she whole heartedly supported me and the result has been incredible! Through the tremendous support of the 100 Mile Club and outpouring donations from teachers at my school, Ramona Communication Arts Academy, we were able to sponsor 60 students to participate.
Well, last Friday one of my goals for my CNN Fit Nation journey came true! Students and teachers ran a combined total of 42 miles in 14 minutes for their health at our school's 100 Mile Club kickoff event. I couldn't be prouder of these kids, staying after school to run!
After the event, one of my students, who told me earlier with tears in his eyes that he was being teased by his family about his weight, told me, "Mr. Solis, thanks for doing this for me, I'm feeling better already!"
'Nuf said. Thanks CNN for this tremendous opportunity!!
Next step, nutrition classes during lunch!