Editor's note: CNN contributor Amanda Enayati ponders the theme of seeking serenity: the quest for well-being and life balance in stressful times.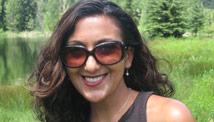 "Ruin my weekend? My boss ruined my life!"
So wrote JJ Jeffers, one of a few hundred commenters on last week's story, "Is your boss ruining your weekend?"
"My new boss makes me work every weekend," wrote commenter kit8. "Hence, I don't feel stress about going to work on Monday as I am always at work."
It's the plight of the malemployed, defined by Urban Dictionary as "when what you do for a living makes you want to kill yourself."

"[W]hat's fouling up my weekend is that my boss keeps bringing in more work and not planning enough personnel to do it," wrote another commenter, randumb guy. "We are building an economy based on extracting more from fewer."
Dude agreed: "Our department … got busier and busier until we reached a point where we were at a full sprint from the moment you clocked in until you left for the day. …Then they added additional work. Then even more work … there was always one that came up a little short at the end of the week. At the weekly meetings they would always bring them up and mention 'disciplinary [sic] up to and including termination.'"
Stress is not necessarily a bad thing, Dr. Rajita Sinha, the head of Yale's Stress Center, once told me.
"It's stress that is sustained, uncontrollable and overwhelming, where people can't figure out options to solve their problems, that is damaging."
Unfortunately for many, work fits this latter bill.
A vast body of epidemiological and public health literature suggests that certain types of workplace practices have an adverse effect on human health and life span, according to Jeffery Pfeffer, professor of organizational behavior at Stanford's Graduate School of Business and author of "Power: Why Some People Have It - and Others Don't."
And so JJ Jeffers's comment is not far off the mark. Your boss may not just be ruining your weekend; he or she may be doing severe physical and psychological harm.
"Look at it in terms of 'exposures,'" says Pfeffer. Layoffs, being uninsured or underinsured, the absence of job control and long work hours can all serve as exposures to a host of diseases and pathologies - high blood pressure, elevated cholesterol, cardiovascular disease, sleep disorders and alcoholism, among others.
And many of the toxic practices that are harming employees are also harming their companies.
"When you don't offer your employees health insurance, they come to work sick," says Pfeffer. "They suffer from absenteeism and presenteeism. They are so distracted, they don't get much done. And long working hours being more productive? That's a myth that turns out not to be true."
So what options does a malemployed worker have?
There are no instant cures for people stuck in nasty workplaces, says Robert Sutton, Stanford professor and best-selling author of books like "Good Boss, Bad Boss" and "The No A**hole Rule." But you do have options:
Leave.
First, asks Sutton, are you really stuck? In some situations, an exit may be your best option.
"Sometimes I see people who believe that leaving their company or taking a step down is unthinkable. They are overworked, stressed out and physically sick all the time, but they won't leave to protect their physical and mental health. It's the devil you know versus the devil you don't. But you know what? Living a longer life and being happier is worth it."
"There are also regions and specific areas where growth is pretty good," Sutton continues. "Think through the possibilities, go to an employment counselor, talk to friends who have left and been successful."
What about starting your own business?
"You absolutely have to be realistic about entrepreneurship," suggests Lindsey Pollack, career expert and author of "Getting From College to Career."
"You need a particular skill set and a particular internal drive to do it. Starting your own business is not for everyone."
However, notes Pollack, our economy and the expanding role of technology are moving us toward a work culture where many more people are - and will be - free agents. Freelancing and consulting are a huge trend. There is a middle ground now between being a full-time benefited employee and being a totally independent sole proprietor. Look for opportunities in that middle space.
Fight back.
You should challenge your own assumptions in negative workplace situations, says Sutton.
If you examine the research on power and self-awareness, 50% (or more) of the time your boss may not understand how he or she is affecting people. So your working assumption should not be that your boss is the devil's first cousin - but that he or she may be clueless and unaware.
A frank conversation may address your problem, something to the effect of: "There are things that you and/or this company are doing to me that are making it hard for me both physically and emotionally. I'm willing to work hard and be dedicated, but I can't run a marathon consistently at this pace."
"Some of it is just having the conversation," says Sutton. "Don't assume you can't reason with management."
Pollack agrees that communication is key.
"Clarify both what your job expectations are and how your boss likes to be communicated with. Maybe she likes to have clearer channels. Oftentimes the problem's due to a lack of communication. You may be working hard, but if you're not doing what your boss wants, you are going to have trouble."
If at the end of the day nothing else works, you may want to channel Machiavelli.
"Find ways to weaken an oppressive boss or undermine them politically," suggests Sutton. "I have had cases where individuals who tried to fight back failed. But once people banded together and made the case, they were able to oust an overbearing and exploitive manager."
Stay.
Every once in a while Sutton receives an email that says something like: "My job situation is unbearable, but I'm two years away from retirement. What do I do?"
These are the times when you have to suffer through, he says. You've got to figure out how to get through without doing as much damage to yourself. Do everything you can to keep yourself in better physical and mental shape. Find ways to escape.
"I'm a big believer in living the fine art of emotional detachment. Sometimes there is an argument to be made for going through the motions without letting it touch your soul."
The good news is that there appears to be a dawning realization that malemployment isn't going to end on its own.
"We have to slow down and recognize that we are running a marathon," says Sutton. "We can't sprint every moment of every day. People are realizing that they are burning each other out."