Editor's note: CNN contributor Amanda Enayati ponders the theme of seeking serenity: the quest for well-being and life balance in stressful times.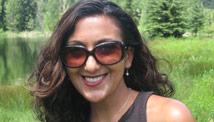 Most Sundays last year, Juliet woke up feeling fine. But as the day wore on, she grew more agitated.
"By early afternoon I felt sick with stress and was walking around snapping at everyone. It was my husband who finally figured out that I was dreading going back to work Monday morning. The anticipation was ruining my Sundays."
Juliet had loved her job until the company where she worked was bought out. The culture of the organization originally built and run by a handful of idealistic scientists shifted overnight.
"The scientists were out, and the incoming CEO and leadership team were these marketing types who set an entirely different tone. The new executives were like these funnels of stress, spreading anxiety throughout the organization."
FULL POST