Dr. Jennifer Shu, CNNHealth's Living Well expert doctor, is a pediatrician, mother of two and co-author of "Food Fights: Winning the Nutritional Challenges of Parenthood Armed With Insight, Humor, and a Bottle of Ketchup."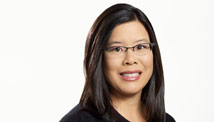 In my pediatric practice, it is sometimes difficult to look at a child and tell whether he or she is at a healthy weight for his or her height and age.
Many children tell me they think they are overweight, while parents believe their children are just right, or perhaps too thin.
This is where numbers come in handy - objective measurements, including a child's weight, height and body mass index, or BMI are useful tools when talking to families about a child's size.
While factors such as body frame and muscle composition may make a person's BMI higher or lower than expected, these measurements are generally more accurate than eyeballing a child to see if he or she is over- or underweight.
So, what do all these numbers mean? Weight and height are self-explanatory. BMI, a calculation that takes into consideration the height and weight, is a fairly good reflection of a person's body fat.

For children, height, weight and BMI are plotted on standard growth charts that give percentile curves for the measurements. A healthy weight means having a BMI percentile between 5 and 85. A BMI over the 85th percentile (meaning the child's BMI is greater than 85% of other children of the same age and gender) is defined as being overweight, while 95% or greater is considered obese. A BMI below 5 percentile is considered to be underweight.
Unfortunately, as obesity becomes more common among children, diseases once thought to be primarily a problem of adulthood are showing up in kids. For this reason, children should be screened for medical complications of obesity, such as diabetes, high blood pressure and high cholesterol.
Not everyone agrees when you should start screening your children, but the latest recommendation is to test cholesterol between 9 and 11 years old and then again between 17 and 21. Ask your pediatrician for his or her opinion based on your child's BMI and your family's medical history. Blood pressure can be measured with a cuff at the doctor's office, and diabetes and high cholesterol can be checked with simple blood tests.
These tests may include blood sugar, hemoglobin A1c and insulin levels for diabetes; a lipid panel (such as cholesterol and triglycerides) which, along with blood pressure, is a marker for heart disease; and tests for liver problems that can occur with obesity.
In some situations it might be important to rule out medical causes of obesity. For example, patients who have a higher concentration of fat in the neck and head region could have Cushing's syndrome, and those who are relatively short for their weight and age and have other symptoms might have low thyroid function.
When counseling families about nutrition and exercise, I find it most effective to emphasize healthy habits for the whole family, rather than to single out individual children since they ultimately need their parents' help to stick to new routines. Also, the entire family can benefit from following a healthy lifestyle.
Finally, while the categories "overweight" and "obese" are used when determining the best treatment approach for a child's size, they aren't always the best terms to use with children.
Telling children that they are at an "unhealthy weight" or that their "weight is not well matched with their height and age" can be a better tactic - this philosophy applies whether a person is over or under his or her ideal weight range.
For information, visit wecan.nhlbi.nih.gov or letsmove.gov.