Editor's Note: Each week in The Human Factor, we bring you the story of someone who has overcome tremendous obstacles to achieve a goal.  Today we introduce you to Kevin Pearce, a professional snowboarder who was considered Olympic gold medalist Shaun White's biggest competitor. Then an accident on the Eagle Superpipe in Park City, Utah, left Pearce clinging to his life.
As soon as I awoke from the coma that was a result of my severe traumatic brain injury, I knew my goal was to get back on my snowboard.
Luckily for me, my doctor had told my parents that my recovery depended on keeping my hopes and dreams alive. So, even though I'm sure they were nervous to think I would ever go snowboarding again, they supported me and allowed me to believe this might someday be possible.
For me, the idea of getting back to the mountains, to the snow, to my friends, crew and my favorite sport gave me all the direction I needed to make my recovery a reality.
But first, I had an enormous mountain to climb, and it was nothing like the mountains where I had spent the best part of my competitive snowboarding career.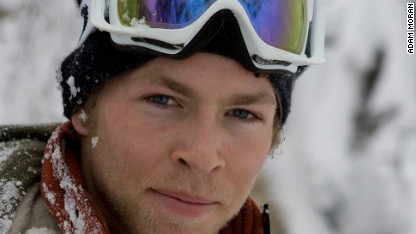 Little did I know what two intensive years of rehabilitation from a traumatic brain injury would look like.
At first, I thought the doctors said the process would take one year. So I worked hard at both inpatient as well as outpatient therapy, day after day for a year. I finally reached my one-year, post-injury anniversary and went back to my rehab hospital for an evaluation.
Of course, I was expecting to get cleared to ride again. But what shocked me most was to find out that they wanted me to continue my recovery and wait another whole year before riding again.
That was one of the hardest things to adjust to - an additional year of rehab and another snowboarding season passing me by.
I also had to come to grips with the hard realization that my life would never be the same again. I had been at the top of snowboarding, and now people questioned whether I would even be able to make simple turns again. A traumatic brain injury is something that changes your life forever, and the healing process never really ends.
My only choice was to keep my focus on my goal and keep moving in the right direction: no partying, no drinking or staying up late; lots of naps so my brain could rest; and tons and tons of therapy.
One thing that really surprised me and helped a lot was how many people reached out to tell me they have been inspired by my story. Maybe because of my Facebook page "Well Wishes to our FRIEND Kevin Pearce" created by my brother, Adam, and maybe because of all the PR I have received, I now know people find meaning in what I have been through. I think they realize what a huge loss it was for me not to make it to the Winter Olympics in 2010. I watched from my hospital bed and was lucky to be alive.
They know how badly injured I was and that I came very close to dying. And they have heard that I needed to relearn basic things such as swallowing, walking, running and seeing with single vision instead of double vision all the time. They also know, like I do, that competitive half pipe riding is a risk I can no longer afford to take.
Most of all, I hope people realize how much my family has been a part of my amazing recovery.
Adam took a year away from a job he loved to be part of every step of my therapies. David, my older brother who has Down syndrome, taught me what true patience is all about. He knows better than anyone what it means to stay focused and overcome challenges.
And my brother, Andrew, his wife, Christy, and my parents have encouraged me daily throughout this long and sometimes difficult process. Thankfully, I have been fortunate enough to have parents who have been more selfless and accepting of my condition than I could ever imagine. There is no way I would be where I am today, if not for their love and the support they have given me.
On December 13, I finally achieved my goal: I got back on my snowboard in Colorado. No better day ever. Surrounded by family, friends and fans who helped make it all possible, it was more than anything I could have imagined.
My biggest lesson: If you put your mind to something, stay positive and never give up, anything is possible!