Watch "Dr. Sanjay Gupta Reports: Big Hits, Broken Dreams" Sunday, January 29 at 8 p.m. and 11 p.m. ET.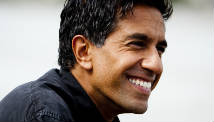 One day late in the summer of 2010, I was sitting in my backyard with my oldest daughter. We had just finished cutting the lawn when my neighbor and his oldest son stopped by.
His son, a football player at one of the powerhouse local high schools, had grown nearly an inch over the summer and weighed more than 200 pounds. He was already in practice for the upcoming season. He asked if I had time to speak to a friend of his who also played football and had suffered a concussion the previous season.
They were asking me in my capacity as a neurosurgeon, but also in desperation, as this young man was still having tremendous difficulty nearly a year after his injury.

Most of the patients I see in the hospital visit me at the time of their injury, and I hardly ever get to see the longer term impact of a severe concussion on an otherwise healthy young person. What he shared with me was stunning, and also formed the basis of the year long project, "Big Hits, Broken Dreams."
This young, physically robust, handsome man couldn't remember the details of the hit in a mid-season practice that led to his concussion, but he was able to describe in awful detail how much his life had changed since. Once a nearly 4.0 student, his grades had dropped to "mainly Cs," he told me. His memory was affected, and even during our discussion I could tell that his ability to retrieve words spontaneously had been impacted.
"The headaches are the worst," he said, and no one had been able to help him.
Doctors had recommended everything from hyperbaric therapy to cervical spine surgery, as well as a laundry list of medications. In short, there were no good answers or solutions.
"Tincture of time," was the common refrain he heard, and with post concussive syndrome or PCS – most times that is all medicine can legitimately offer. Near the end of our conversation, the dad in me came out as I asked him: "Do you have any regrets about playing football?"
He didn't hesitate. "Not at all," he quickly answered.
If baseball is our national pastime, then football is our national passion. And, I love football as much as anyone. Over the last year, however, I have learned there are ways to play football more safely, and still have football be... football. There are ways to play football more safely, and still win.
Whether it is the mandatory presence of athletic trainers who can diagnose concussions and are empowered to sit a player out, or it is fewer practices with full gear and repeated drills involving hits to the head - there are so many simple things that can be done to preserve the game, and the men who play it.
The young man in my backyard was just a teenager, but based on national statistics had been averaging 650 hits to his head every season he had been playing football.
Fortunately, none of them led to the most catastrophic outcome of death, usually due to second impact syndrome - a second concussion before the brain had healed from the first. Unfortunately, however, he was neurologically impacted, and there was no end of his misery in sight.
I offered as much advice as I could, but also promised to tell the story of players like him, and the latest science to try to reduce these tragic situations. If you are a player, a parent or a participant in the fanfare of football, I hope you get a chance to see "Big Hits, Broken Dreams."