Editor's note: CNN contributor Amanda Enayati ponders the theme of seeking serenity: the quest for well-being and life balance in stressful times.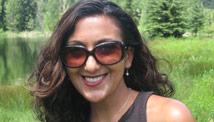 Stress in America, the American Psychological Association's annual survey, came out last week.
The results were not particularly shocking. Large numbers of Americans are stressed out. Many, extremely so. And far too many are failing to take adequate action to alleviate the stress in their lives.
All of which led my editors to wonder: If we recognize the negative health implications of high stress levels - heart disease, high cholesterol, high blood pressure, diabetes, obesity and depression, among others - then why are so many of us doing such a poor job at managing it?

The answer, according to the experts I consulted, may be a sort of willful blindness known as the "optimism bias."
"It is a natural human inclination to see our situation and our future through rose-colored glasses," says David Ropeik, author of "How Risky Is It, Really?: Why Our Fears Don't Always Match the Facts."
"We tend to see our prospects as being far better than they may actually be - and particularly when compared to the next guy. This optimism lets us deal with hardship and take chances in life."
Say you're asked how long you think your marriage will last. You will probably estimate far longer than it is statistically likely to. And if you're asked to estimate the longevity of your marriage compared to someone else's, your overestimation is likely to be even greater.
"We certainly do this with our health: How likely is it that you will be hospitalized in the next five to ten years? How likely is it compared to someone else? You will get similar results," Ropeik says.
Most people are mildly optimistic and that's a good thing, observes Dr. Tali Sharot, author of "The Optimism Bias: A Tour of the Irrationally Positive Mind."
"The 20% or so of people who do not have an optimism bias are clinically depressed. In fact, when things go really bad, people become more optimistic, not less, because that's when we need it most."
According to Sharot, there is even more reason to celebrate our inclination toward hope. "Optimism is better for your mental health - it eases your mind and actually lowers your stress."
It also benefits your physical health. Optimistic people are more likely to follow doctors' orders, to take vitamins, to eat better and exercise. Also, optimism can become a self-fulfilling prophecy. If you believe in a positive outcome, you are more likely to act toward it.
The downside to the optimism bias comes into play when people's rosy perceptions lull them into denial, rather than judicious action.
"People believe they have a lot of control over [their] lives - sometimes even when things are truly beyond their control. They justify to themselves that there are things they can do to avoid negative consequences. For example, they may think, 'I know stress has all these negative effects, but I can steer the wheel in the right direction when I need to. I can maybe exercise more!' But in reality they are not exercising more, nor are they taking any other action that may be protective."
Ropeik agrees. "Risks that are a matter of choice don't seem to scare us as much. It's a whole other emotional language. The bottom line, though, is that stress is really a bad thing. We are running around freaking people out about rare diseases when stress is way worse as a contributor to a host of chronic illnesses, including certain cancers."
At the end of the day, "the bias toward optimism is helping you cope to some degree, but it can also be deceiving you into ignoring a danger," notes Ropeik. "To the extent we are less worried about something than we should be, that clearly raises our risk. If optimism bias is letting us deny that our stressed lives are bad for our health, that harm far outweighs the measure of relief optimism can bring."
"Two things to keep in mind: you want to be aware of the risk and you want to be clear about the psychology behind the way you read and assess the risk. When you know both, you will be better equipped to take action."
Sharot sounds a similar caution: "People should become aware of their biases and understand how the brain creates these illusions. There is nothing wrong with people having the belief that they're going to be okay, as long as it doesn't end there."
"Encourage the optimism," urges Sharot, "but also stress the need for action."
Want to act? Here are some quick stress busters and how they work.