Anthony Youn, M.D., is a plastic surgeon in Metro Detroit. He is the author of "In Stitches," a humorous memoir about growing up Asian American and becoming a doctor.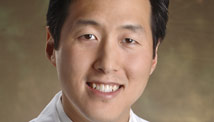 You can guarantee that three places will be open on Christmas day: Chinese restaurants, Denny's and hospitals.
I spent part of last Christmas in the hospital visiting my mother-in-law who was recovering from open heart surgery.  I felt depressed walking into the building that morning.  My mother-in-law treasures the holidays more than anyone else in my family.  Lying in a hospital bed was the absolute last way she wanted to spend Christmas.
But during the time I spent at her bedside, my depression lifted, replaced by an overwhelming sense of gratitude for her doctors, nurses, and medical technicians.  I never felt for one second that her care suffered because her medical team was working on Christmas.  The nurses and support staff were cheerful, accommodating and responsive. One male nurse even wore a Santa's cap and greeted my mother-in-law with "Merry Christmas" and "Ho-ho-ho" before he took her blood pressure.
Most physicians who work on Christmas - with some exceptions like ER docs - round on patients in the morning so they can get back home in time for Christmas dinner.  Not so for nurses and other hospital employees.  They put in full or extended shifts on Christmas to make sure that all the patients are cared for.  Thankfully, hospitals never close; medical care never takes days off.
Each Christmas, nurses and hospital support staff juggle their work schedules and sacrifice their time, giving up their own Christmases to accommodate the needs of patients.  As I sat by my mother-in-law's bedside and looked forward to my own Christmas dinner, I thought about the dedicated caregivers who would spend their day changing catheters and cleaning wounds while the rest of us enjoyed being with our families in the warmth of our homes.
Some nurses go way beyond the call of duty.  A few years ago I went to the hospital on Christmas morning to see a patient who had undergone reconstructive surgery.  Her nurse, Sara, smiled as she worked.  Even so, I thought she looked a little tired.  I asked her how she was doing.  She told me she was working her second twelve-hour shift in two days.  She was covering for a nurse who had called in sick.  You would never know it. Sara was professional, caring and attentive to my patient, as well as to the five other patients assigned to her.  I was in awe of Sara.
Operating on almost no sleep, she was spending Christmas working in the hospital, instead of with her small children, and she was going about her job cheerfully without complaint and with consummate professionalism.
We owe a great debt to the people who serve us and our country - our military, our teachers, police officers, fire fighters, mail carriers and others in civil service.  I know that many people give generously to all those who keep us safe, educated and connected.  But if you happen to have a little extra time or can spare a few extra dollars, consider showing your appreciation to the nurses in your local hospital who are spending their Christmas caring for patients.
And here's a suggestion.  Since hospital food can be  iffy and on Christmas day really iffy, how about sending some Chinese take-out to the nurses' station at your local hospital?
Because I know from experience that Denny's doesn't deliver.