Editor's note: CNN contributor Amanda Enayati ponders the theme of seeking serenity: the quest for well-being and life balance in stressful times.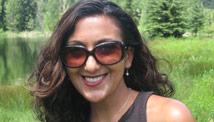 In two weeks I am going into surgery to reconstruct my right breast, which I lost to late-stage breast cancer four and a half years ago. The tumor was the size of a baby Godzilla. "Nine centimeters!" I remember my mother wailing. "Your entire breast isn't nine centimeters!"
When the surgeons performed the mastectomy in 2007, they put in an expander - like a placeholder - to stretch out the skin in preparation for an implant. Back then the plastic surgeon said I had to wait something like three to six months for my skin and body to recover from chemo and radiation before I could have the reconstruction.
I was dying to get back to "normal" and so I used every Jedi mind trick I knew to convince the surgeon to operate faster. I even resorted to my old Iranian negotiation tactic of asking the same question over and over again using slightly different words until the person just breaks down from mental exhaustion. Alas, the Stanford surgeon was an ex-New Yorker. He prevailed.

The expander under my skin was low maintenance and I looked mostly normal in clothes, and so pretty soon the breast itself became beside the point. But early this year, during my one of my regular check-ins, my beloved oncologist Dr. Guardino grabbed both my hands in hers and looked me square in the eyes.
"It's time," she said. "Schedule the reconstruction."
Cancer is a game changer. It changes you physically, emotionally. It changes the way you see things and people and relationships. It literally leaves an imprint on your brain.
On my worst days I waged a war against cancer.
On my worst days I raged about the injustice, the waste, the why, the how.
On my worst days I allowed the disease to define me.
On my very worst days and nights I bobbed up and down in dark oceans of fear with no land in sight.
But on my best days...
On my best days I gave thanks.
Not for being sick. Not for losing a part of my body. But for life itself. And for all the things I learned.
They were many and they came to me piecemeal, as in the story of the old wise men who examined the elephant in the dark, each describing a different part of the animal. Eventually I managed to put the pieces together and to recognize them for what they were.
And here's what I learned:
You go through life thinking you know some things, like what "healthy" means. Then one day the bottom falls out from under you and there you are, arms in the air, plunging like Alice down the rabbit hole. And that's when you realize that nothing was as it had seemed. I learned to assume nothing and to question everything. I learned you must see through your own eyes and not through the eyes of others.
I lived through a virtual encyclopedia of tragedy in my first three decades - revolution, dysfunction, terrorism and disease - before I finally learned that there is no such thing as control.
I still struggle to be comfortable with uncertainty, but I have finally made peace with it. Maybe someday I will even embrace it.
I learned that happiness in the face of adversity is revolutionary and that optimism makes you more powerful.
"What are you waiting for, lovey?" my friend Michele Mason would always ask me. I'm not sure what I was waiting for, but I spent too many years hand-wringing over my dreams. It was illness that finally pushed me over the cliff.
"If not now, then maybe never," is what I recall thinking. I learned from Michele that healing may not be so much about getting better as it is about letting go of everything that isn't you and finally becoming who you are. And when I squared off with death, I learned that there is no such thing as too late.
I learned you never stop missing the dear ones who left too soon. I learned that one after I lost Michele to cancer in August. I still think of you every day, beautiful friend. I sense you walking with me, even now.
With my hair, my eyebrows and my lashes gone, my body near-wasted, every one of my masks stripped away, all I felt was love. All I desired was unity. All those things I had worried about over the years, raged about, complained of, fallen out over - all seemed completely worthless and inconsequential.
In the end, I learned that love is tangible and that it is the foundation of everything worthwhile. And if I had to go on to the next world, love was the only possession I wished to take along.
In my darkest hours, what I cherished most were not the fireworks moments of my life, but the most pedestrian: sitting together on a park bench in the warm sun, talks with my children during car rides back and forth to school, spontaneous hugs.
But time passes and amnesia sets in, dimming those bursts of clarity. Sometimes these days I find myself once again sleepwalking through the everyday and obsessing about the dramatic.
But this moment is the prize.
I know this. And I don't want to forget.
Happy Thanksgiving.