You may know her as Xena from "Xena: Warrior Princess" and, more recently, Lucretia from "Spartacus," but you may not expect that Lucy Lawless would fly all the way from New Zealand to California for TEDMED, a conference about great ideas in health care.
"It's like a beauty pageant for brilliant people, where you sit in the audience and all these geniuses comes out and like, parade their incredible brilliance in front of you," said the New Zealand-born actress in Coronado, California, in October.
Lawless, 43, was not dressed as a warrior, an ancient social climber or a "honey-badgerette." Making her first conference appearance in athletic pants and flip-flops, she avoided broad recognition, although many attendees did figure out her identity. Friendly to everyone, and eager to learn about the fascinating people at the conference, she wasn't even put off when a biochemist told her, "I heard Lucy Lawless is here!" She merely showed him her ID badge and, after a moment of awkwardness (during which I joined the conversation), we all naturally turned to topics such as genetic testing.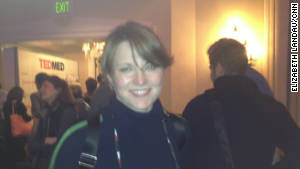 "I'm not a geek, but I love geeks," she said. "I love these people who have focused all their attention on like, lasers, on some particular area."
Her favorite role to play is her current one, Lucretia, on a show inspired by the life of the gladiator Spartacus. The role of the wife of Spartacus' master Batiatus is challenging, and the character is complex, she said.
In her spare time, she helps the fund-raising arm of a children's hospital in New Zealand, and is involved with Greenpeace in New Zealand.
"Life out in space is cold - or it's really hot, but it's inhospitable. You don't want to go there. There is no planet B. This is it. Its very fragile, let's save it."
This is the first CNN.com interview from TEDMED 2011. Check back next Thursday for more.