Anthony Youn, M.D., is a plastic surgeon in Metro Detroit. He is the author of "In Stitches," a humorous memoir about growing up Asian American and becoming a doctor.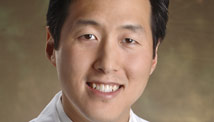 When I imagine the stereotypical Korean mother, I think of my mom. If there were four servings of food left for our family of five, she'd promptly announce that she wasn't hungry.
My wife, a pediatrician, spends all day taking care of other people's kids, then all evening taking care of ours. I've encouraged both my mother and my wife to put their needs first once in a while, instead of always trying to take care of everyone else. It's not selfish to occasionally put yourself first. I've learned that it can mean the difference between life and death.
A few years ago, I received a call from the ER to see Mildred, a 65-year-old woman who needed a plastic surgeon. This wasn't a typical ER request to repair a dog bite or knife wound. The doctor said, grimly, that Mildred's left breast was gone.
The moment I walked into Mildred's room the stench hit me like a fist to the nose. The smell of dead, rotting flesh filled the room. I approached her gingerly as she sat on the hospital gurney.
"Hi, Mildred. I'm Dr. Youn, the plastic surgeon. What's happened?"
She stared at the floor, then finally looked up at her husband sitting in a chair next to her.
"Tell him, Mildred," he said.
She hesitated. "About a year ago I felt a lump in my breast. I didn't think anything of it, so I ignored it. I really didn't have time to deal with it. I took care of my grandkids every day while their mom worked three jobs. Well, the lump kept getting bigger. One day, a sore opened up on my breast. It started draining and bleeding. We live out in the country and we don't have much money, so I just covered up the wound with an extra diaper. Then it got even worse. I finally came here to get it checked out."
"Let me take a look," I said.
She hesitated again, then uncovered her left breast.
The sight and smell rocked me.
Her left breast was gone.
In its place sat a mass of wet gray tissue that looked like moist clay.
"How long has your breast looked like this?"
"Four months."
I bit my lip. "Why did you wait so long?"
"I've been so busy with my grandkids that I didn't have an extra minute to take for myself. They can't afford a babysitter. They got nobody else to take care of those kids. One of them has special needs. They count on me." Mildred swallowed. "Am… am I gonna be okay?"
I sat down on the gurney next to her. "I don't know, Mildred. But I'm going to take care of you. I promise you I'll do my best."
A short time later a CT scan revealed that Mildred had breast cancer that had spread to several other organs. We brought her to surgery, removed what remained of her cancer-stricken breast, and placed a skin graft over the area. We'd done everything we could. She died four months later.
Mildred's sad case jolted me. I started thinking about the sacrifices so many women make for their families. If Mildred had taken only a couple hours to see a doctor once she found the lump, she might be alive today.
It's often said that mothers and grandmothers are the glue that holds a family together. Without them, the family falls apart. I've encountered countless female patients who've spent the majority of their adult lives caring for others - children, spouses, parents - at the expense of their own health. Although I encourage these patients to set aside time to care for themselves, I know that many don't hear me.
My wife is a working mom who doesn't do enough for herself. She constantly sacrifices her time, energy, and even her health to care for her patients and our children. It's against her nature to take time for herself. But with a nudge from me - and some significant Daddy-kid bonding - she's starting to allow herself an occasional breather. She needs it. She deserves it.
I urge all women to do the same - if necessary, get someone to help you out - but take the time to take care of yourselves.