Editor's note: CNN contributor Amanda Enayati ponders the theme of seeking serenity: the quest for well-being and life balance in stressful times.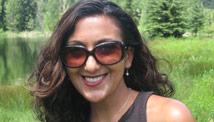 The young entrepreneur walked in and sat down. She was focused and calm, with wonderful posture, her hands casually in front of her, just so.
"I looked at her and thought, 'I wish I had that much poise,'" said my friend Jenna, a communications coach who works with MBA students to help them perfect the art of interviewing and presenting ideas.
"We talked for five minutes, had a normal conversation." Then the woman started to explain how she has trouble speaking in front of people. "Out of nowhere everything about her started to change: her face began flushing, her hands were shaking, her voice was trembling."
The entrepreneur's metamorphosis under pressure was so dramatic, Jenna was still thinking about it days later when we spoke.
"Pressure can be an amazing gift. It sharpens our mind, sharpens our focus." Says Dr. Michael Gervais when I ask him about how to handle debilitating stress during critical moments—like, say, in a job interview or during a presentation—when you have to perform well.
I so badly want to roll my eyes from here to the end of creation, but Gervais knows what he's talking about. He is a high-performance psychologist. He works with some of the world's top athletes to help them develop strategies to not only perform better, but to thrive, under extreme pressure.
"All stress means is that we are engaging in change. Everyone wants to grow, but somehow no one wants to change." But you can't have one without the other.
According to Gervais, there are two ways to view change: eustress, change that you see as being positive, or distress, change that you view as negative. What's most important in any situation that causes anxiety is that the performer—the person going through the stress—can determine for him or herself whether the change is in the eustress or distress category. When we perceive something as being eustressful, that stress helps us. On the other hand, when we feel distressed, we need greater reserves of physical and emotional energy to regain balance.
So how do we all start eustressing instead of just stressing in difficult situations?
The key to peak performance in high-stakes environments is a disciplined mind.
"If you're looking at an important performance opportunity like, say, a world championship, your body will respond (and cooperate) by activating." The challenge is what to do with the physical and mental energy. Too much energy puts you over the edge and not enough energy leaves you under-engaged. "It's a balancing act—like a teeter totter," says Gervais.
"A disciplined mind is aware of the body's activity and when it reaches an optimal place, it hovers in the area." Gervais calls this "hitting the sweet spot."
Gervais recommends three steps for learning how to hit—and stay in—the sweet spot:
Calm your body. Understand how to generate and maintain a sense of calmness wherever you are. Simple breathing may be the best tool to calm your body. Gervais recommends practicing the following breathing exercise for ten consecutive days: Find a comfortable, quiet place to sit or lie down. Begin by breathing normally and then taking slower and deeper breaths through your nose, with your lungs expanding as fully as possible. Place your hand on your abdomen and inhale deeply to feel your hand rise and fall each time you exhale. Continue for ten breaths.
Refocus your mind. The natural state of our mind is continuous wandering. "As a guiding principle we are looking to deepen our self-awareness so that we can focus the mind and be aware of our emotional experience, which then allows us to be present in whatever activity we are engaged in." Gervais finds that regular meditation helps build and increase focus and awareness. He holds regular meditation sessions—sometimes for as little as ten minutes, three times a day—with his clients.
Generate confidence. Generate confidence wherever you are by learning how to guide your thoughts. Your best tool here is self-talk. According to Gervais, it's first important to have a clear understanding of your internal dialogue and to be mindful of the conversation you are having with yourself in stressful situations. If you appreciate the self-talk and it helps support the direction in which you are going, great! But if the running commentary in your head is biting, cutting and destructive, you can acknowledge it and then guide your thoughts toward a more productive place.
"If you're an athlete staring down a 60-foot cliff, thinking to yourself, 'I shouldn't have stayed up late. I wish I had done more in the gym. These skis feel off,' this is a destructive dialogue. In that moment, you must take a breath and turn the conversation to a position of strength: 'This is what I do. It's what I'm trained to do. I've done this my whole life. I'm going to stomp this turn. Let's go!'" 
There are different ways of accomplishing this. You can gain insights and take inventory of your internal dialogue through writing or maintaining a journal. Sometimes Gervais even has his clients text their thoughts and insights to someone several times a day. But, notes Gervais, "not all people appreciate writing. Conversation can be equally powerful." The key is to develop an understanding and mastery of your internal dialogue in safe environments so that it becomes automatic, reflexive and affirming in what you may consciously or unconsciously perceive as hostile or stressful situations.
"Once you learn how to do these three things—calm your body, refocus your mind and generate confidence—you can adjust to whatever comes your way," says Gervais.
And when his clients have mastered performance under pressure, Gervais coaches them to move beyond, to the next level, toward what he calls "dissolving pressure."
"Where does pressure come from? It comes from the interpretation that something is threatening to you." But what's most important, suggests Gervais, is going out of your way to build capacity to handle more in your life. Stretch your limits, do things you might normally shy away from, get out of your comfort zone on a regular basis and stay there as long as possible in order to generate a new reference point or adaptation.
"Why do people want to change? Often because they are experiencing pain. A strong motivator for many people is to avoid pain and find a sense of comfort. What I have found working with some of the best and brightest in the world is that they tend to do the exact opposite. They willingly move into circumstances and situations that test their internal skills. They make themselves uncomfortable and they stay in that space as long as they can in order to force a new adaptation of the way they respond. That's a very different way of looking at performing. "
"Because pain is brilliant. And it is necessary."