Editor's note: Michael Schulder is a senior executive producer at CNN.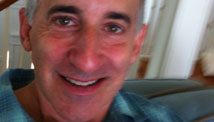 Two hundred and fifty thousand or so Americans are expected to run and complete a half marathon this month. And I plan to be one of them on Saturday. It's my first half.
But I have an advantage over all those other runners - an advantage I got from a mystery woman, whose voice has whispered encouragement into my earbuds from my iPod Nike App since I began jogging two years ago, as I approached the age of 50.
Yes, the mystery woman has said something to me she hasn't told those other iPod App runners.

I had never planned to do long distances. I was just jogging a few miles a few times a week - 30 minute runs for health and longevity. "Chasing Life" and "Cheating Death," as my colleague Dr. Sanjay Gupta might say.
But I got hooked. I gradually increased my mileage. And I noticed that when I'd break a personal record, or personal best, which is an important marker in the running world, a voice would come over my iPod running app. A British voice. A sultry voice. And here's what she said:
"Congratulations. This is (a name I didn't recognize.) You've just done your personal best..." Short. Sweet. Encouraging.
I broke a few personal records over time. Each time her voice would speak to me - the same woman, the same message. But I always forgot her name.
This summer I was in New York, and decided I had to get this mystery woman's name. The only way to hear her say her name was to break another personal record. And the only personal record I knew I could break through sheer willpower was the amount of time I'd run. So, in Central Park, on June 21, the longest day of the year, which is an advantage when you're running after work in Central Park, I ran, and ran, and ran, until I knew I'd run longer than I'd ever run before.
Then I pulled out the pen and piece of paper that I brought with me for the occasion, pushed the iPod button and listened to the message.
"Congratulations. This is Paula Radcliffe..."
Same woman. Same message. This time, I had her name.
PAULA RADCLIFFE! Never heard of her. I raced back to my hotel room and Googled her name. A MILLION hits. Paula Radcliffe, I quickly learned, is one of the greatest, if not THE greatest, female marathoner.
I had to speak with her.
I called our CNN London bureau. Of course they knew her. She's a national icon over there. They gave me her husband's email. He's her coach. I emailed him. He gave me her cell and told me to call her the next morning on her way to the airport.
I reached Paula at the appointed time.
I told her how much I appreciated her encouragement whenever I did my personal best.
But I told her I was disappointed - very disappointed. Last night, I said, I didn't simply break a personal record. I broke it by leaps and bounds. I ran a far greater amount of time than I'd ever run before. And yet, I said, you used the very same words you always use when I just barely break a personal best.
"How long did you run," Paula asked.
"I increased my time from 40 minutes to a whole hour," I told her.
"An hour!" she exclaimed. "Well," she said. "You're no longer a jogger. NOW, you're a runner."
You heard it. Paula Radcliffe, the great marathoner, has declared me a runner.
I had one more question for her. Your husband is your coach, I said. What words of encouragement does he give you at the end of a run?
He usually doesn't say anything, she told me. She explained that she and her husband know each other so well that a simple look from him communicates a lot. "But sometimes," she says, "after a run, he'll give me a hug."
A hug.
There's no app for that.