Devyn Pangyanszki is the daughter of Jennifer Seitz, a senior editor at CNN.com.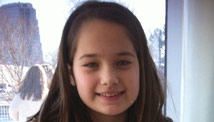 I'm 10 years old, and for almost half of my life I've been a vegetarian.
My whole family eats meat, and my favorite meat used to be ham. All that changed in first grade.
I was a narrator in the play "Charlotte's Web," which is the story of a pig named Wilbur, a spider and a girl who wants to keep Wilbur alive on her dad's farm. The part that made me really want to become a vegetarian is when the dad wanted to make the pig into bacon.

I told my mom that I wanted to stop eating meat, and she supported my choice. But I know she was worried about my protein. She had to look up a lot of information.
Kids as vegetarians: Parents, it's really OK
She changed a lot of our family favorites and had to get new recipes. I love black beans, and there's really not a bean I don't like. I eat all fruits and vegetables except one (carrots.) Tofu on the grill is yummy!
Fake meat tastes great to me. I have veggie bacon every morning. Most of my friends say it tastes like bacon-flavored rubber, but I met a vegetarian friend this summer, and she loves it, too.
To make sure I'm getting everything I need, I use Bragg's [seasonings that have all my amino acids], and I take other vitamins, too.
Sometimes people I meet are surprised to find out I'm a vegetarian, and others are surprised how long I've been one. It does take a lot of determination, but it's worth it to me to be so healthy and to save animals.