Weekends are happier times than weekdays, right? That association holds up in new research published in the journal Science that used Twitter to gauge the moods of millions of people.
Researchers at Cornell University looked at tweets from all Twitter users who created accounts between February 2008 and April 2009, weeding out those who tweeted fewer than 25 messages. In total, they looked at 509 million messages written by 2.4 million people. Then they matched words from those tweets to an established word list that psychologists use to gauge positive and negative moods.
They found that people tend to wake up in a good mood, which progressively worsens over the course of the day, but then picks back up from dinnertime to bedtime.
Before you go blaming your job entirely for bad moods, consider that the researchers observed a similar pattern both weekdays and weekends, with the morning freshness deteriorating and then a second wind of good mood around dinnertime. So maybe there's something biological going on relating to circadian rhythms and sleep.
On the other hand, overall mood is better during the weekends. In fact, weekends are happy times no matter what days happen to form your weekend. Most people in the United States have off from work on Saturdays and Sundays, and their mood as reflected on Twitter is heightened during that time. In the United Arab Emirates, weekends are Fridays and Saturdays, so Emirati people show good moods on those particular days. Also, generally people sleep later on the weekends.
"It is possible that when you are being woken up by the alarm clock, it interrupts your natural rhythm in a way that doesn't happen when you wake up naturally," said study co-author Michael Macy, sociologist at Cornell University.
Tweets also reveal how moods change seasonally. It appears that the amount of daylight doesn't matter so much as whether the days leading up to it were longer or shorter. As the summer solstice approaches, and the days get longer, mood is higher on average than when daylight hours decrease, as the winter solstice approaches.
Researchers saw these trends across Twitter users in 84 countries, suggesting there is something universal related to circadian rhythms, as well as the effects of environmental stressors like the workday, said lead author Scott Golder. There's also the factor of when the sun rises and sets in your locality, says Macy.
"Culture interacts with our biological patterns to produce the changes in mood that we are able to observe using these data from Twitter," Macy said.
But tweets reveal more than just moods. Golder has launched a website called timeu.se where you can explore more behavioral results from the Twitter dataset. For instance, worldwide people seem to eat bacon (red line) more than sausage (blue line), although both are eaten at similar times of the day.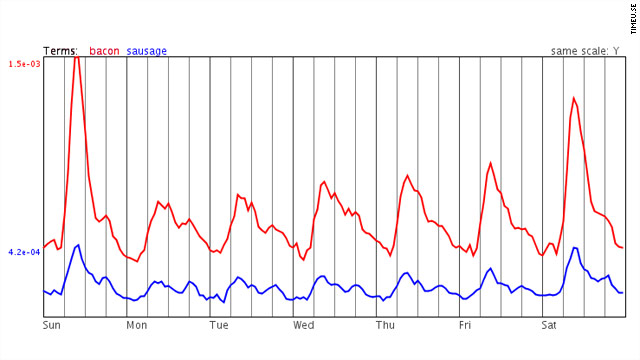 Beyond the results of the study, the methods represent a "game changer" for the future of this kind of fieldwork, Macy said.
"It's all a playground for all the social sciences and the behavioral sciences," Macy said of social media.