Editor's note: CNN contributor Amanda Enayati ponders the theme of seeking serenity - the quest for well-being and life balance in stressful times.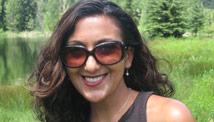 "Late bloomers? Late for what? What is it we're late for?"
I had called Shilloy to discuss late bloomers, chiefly because last year, in her early 40s, she made a dramatic shift in her career as a marketing exec and went back to school to become a therapist. But as I began our interview, it was clear that something was putting her on edge.

"The term 'late bloomers' pushes a button for me," she admitted. "Part of it is that for decades I bought into this whole paradigm in our culture of blooming when you're supposed to. And I was on track! I was keeping up with the Joneses - with the education, the salary, the home, aiming for the 2.5 kids by a certain age. I was living in New York City, working for a blue-chip firm, and I was going through the motions of what you should be doing when you're successful. Maybe my work was still not answering the question of who I was, but I justified it as 'I'll make all the money I want to make and then I'll do what I really want to do.'"
In 2006 Shilloy was recruited by a start-up technology company. Within three years, the company went bust, along with the economy. "I was brought to my knees. I was bleeding financially. My relationship had fallen apart in the midst of all of it, and I was left with nothing."
She fell into a deep despair. "I stayed in bed for most of the four months that followed. I cried and prayed and wrote about what I wanted. And I grieved. I mourned the person I thought I was going to be. I mourned the company I thought was going to take off. I mourned my home, my car, all the material things I was surrounded by that, in the end, had nothing to do with my comfort, my happiness or my salvation."
With her savings spent, she packed up her home and placed everything in storage. And she did what had once seemed unthinkable to her: She moved back to her parents' house. "I needed to take some time to think about what was happening."
Within months, she identified that missing thing that had eluded her all those decades. "What I was meant to do fell into place. There had always been an inkling of it in my life, but I had never even slowed down to contemplate it. I was so driven by all the other things I thought I was supposed to do and so I made these unconscious decisions, and eventually the unconscious living shaped my life."
But once she was forced to stop and look around, the path she was meant to take became clear. And then it was just a matter of simple details: which school, which program, which classes. "I was having one of those magical moments. It was smooth like it was meant to be. As if the script had been written and I was finally willing to read it. It felt right and good."
I considered Shilloy's objection to being called a late bloomer. Though unemployment is a huge source of stress for many Americans right now, that burden is especially heavy for older workers, particularly those in their 50s and 60s. Older workers fear being passed over for jobs because of their age. They fear never recovering their former salaries. They fear being discarded from the workforce altogether. Add to all that the often unspoken anxiety that because they have failed to achieve a measure of success by a certain time, they are a failure.
These concerns are real and can be incredibly stressful. But consider this: In his book, "The Genius in All of Us," David Shenk writes about the science that suggests that "few of us know our true limits, that the vast majority of us have not even come close to tapping what scientists call our 'unactualized potential.'"
And if it is true that every cloud has its silver lining, perhaps what we're seeing amid this widening crisis we're living through - economic, social, political and environmental - is the quake that is forcing our hands without discriminating about age, gender, class or any other life circumstance. One that is making us tap into our unknown potential, forcing a bloom, demanding that we stop and rise to who it is we are and what it is we can do. Maybe we are living through the calamity that creates providence.
"There is pretty much only one way to become an early bloomer. On the other hand, there are an infinite number of ways to become a so-called late bloomer." So observes Dr. Scott Barry Kaufman, a cognitive scientist and psychologist who is working on a book about late bloomers. "There are no predetermined paths to greatness. There are paths that have already come and there are those that have yet to come - ones we can't know or predict ahead of time."
But, according to Kaufman, while we as a society are fascinated by younger people who show precocious, rapid development in comparison with their peers, those early bloomers very rarely go on to become trend setters or innovators. Late bloomers' achievements, on the other hand, can be far-reaching because they tend to require quite complex abilities that are often years in the making.
"The bigger picture here is that a person can make a career shift at any time," says Tony Schwartz, best-selling author and performance expert. He changed careers at 47, from journalism to the path that would culminate in his founding The Energy Project, which helps individuals and organizations perform better and more sustainably. "You can begin a new career at 75; at 85, if you're healthy enough. You're capable of excellence at any age. I myself expect to have one more career before I'm done - maybe at 59. It is purely a question of your desire and willingness to invest the time and energy required to build skills in a particular area. And there is no greater fuel for excellence than the feeling that what you do matters."
In his work with clients, Schwartz has identified six keys to achieving excellence at any age, laid out in a 2010 Harvard Business Review piece: Pursue what you love; do the hardest work first; practice intensely; seek expert feedback in intermittent doses; take regular renewal breaks; and ritualize practice.
Shilloy's experiences bear these out: "I am working harder than I ever have. And I'm happier than I've ever been. The thing that has become most important to me is my connection to my purpose. People constantly say to me, 'I wish I could do what you're doing.' And I think to myself: 'Why can't you?'"
Shilloy recalls putting pen to paper one morning during those four months of depression and asking herself: "What do I want?"
The answer she scribbled down that day still hangs nearby: "A life where I am present. A life where I serve. A life where I don't resent others. A life that allows me the chance to make a difference. A life that is extraordinary. A life where I laugh often. A life full of love."
One year later, almost to the day, Shilloy's dreams are her reality. "If that is what's called being a late bloomer, so be it. But I don't know that I could have gotten here any earlier."
And if not a late bloomer, she is, at the very least, a woman in full bloom.