Editor's note: September 19 begins "Every Body Walk Week," when the medical community is teaming up with local organizations to encourage people to simply walk more. Walking just 15 minutes a day can increase your life expectancy by 3 years.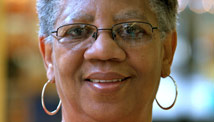 I'm passionate about walking. I know that may sound odd to some but I've never really enjoyed running long distances or the crazy dance routines they make you do at health clubs.
I walk because it makes me feel alive, energized and ready to take on the day, regardless of what the day has in store for me. I have a group of friends that share my passion for walking, and we call ourselves the Iverson Mall Walkers.

Our group began in Hillcrest Heights, Maryland, in 1989 by our beloved founder Gwen Fields. She saw a need for the seniors in our community to get out of their houses and apartments and move their bodies in a safe and nurturing environment that, best of all, also happened to be free.
Our doctors were pressing us, our kids were pestering us, and well, we knew that exercise was vital for our health... not to mention that it would help in losing weight to fit into our pants around the holidays.
Gwen reached out to AARP members in the local chapter and got the Iverson Mall on board and away we went.
Now, 22 years later, we have over 450 active members and we're adding more each day.
We walk three days a week from 8:30 to 9:30 a.m. We start with a warm up - sometimes it's the electric slide (Hey, we still know how to have fun!) - and we end each walk with a cool down so our limbs and our muscles won't be tight the rest of the day. We have some walkers as young as 60 and others as old as... well who cares how old we are?
Since we started walking for exercise, we're getting younger with each lap around the mall we take. We track how many miles we walk.  We have an incentive program and look after each other. If you're out sick, rest assured we will be calling you, sending cards or coming to your door to help out until you are feeling better. The Iverson Mall Walkers is a family.
Our biggest fans are our doctors. Each of us has issues, whether it's with diabetes, hypertension, high blood pressure or high cholesterol. We like to brag to one another about how thrilled our doctors are after every appointment.
"All of your test results look great. Gloria, just keep walking!" Now that's the kind of thing I like to hear during my check-ups.
From time to time we have doctors come in from different hospitals to give seminars and answer any questions we might have. And we're all losing weight and looking fantastic... or so the store owners at the mall tell us.
The Iverson Mall Walkers go to health events all over the area together. We go to dances or out to dinner. Walking regularly has changed our lives.
The week of September 19 is "Every Body Walk Week" and we are taking part in it. It's a week dedicated to educating and reminding people of all the benefits that can come from simply walking.
If you're not walking today you need to start, regardless of how old you are. Walk with your kids to school, take your dog for a walk every day, or just walk with your spouse this evening before dinner.
You will be surprised how the very simple act of walking can change your life, make your heart and bones stronger and give you a brighter outlook on the world.