Editor's note: Ethnographers Patricia and Peter Adler drew on 150 interviews with self-injurers from all over the world, along with 30,000 to 40,000 internet posts in chat rooms and communiqués to write "The Tender Cut: Inside the World of Self-Injury."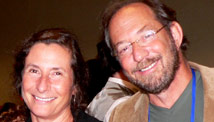 For the last 10 years we have been studying self-injury: the deliberate, non-suicidal destruction of one's own body tissue, such as self-cutting, burning, branding, scratching, picking at skin, re-opening wounds, biting, head-banging, hair-pulling, self-hitting, swallowing or embedding objects, breaking bones or teeth, tearing or severely biting cuticles or nails, and chewing the inside of the mouth.
When teens embed objects in their skin
Our research, just published as "The Tender Cut," offers the widest base of knowledge about this behavior, based on over 135 in-depth life history interviews with self-injurers located all over the world and tens of thousands of Internet messages and e-mails including those posted publicly and those written to and by us.

Self-injury, which has gone by several names including self-harm, deliberate self-harm syndrome, self-mutilation, self-cutting, self-injurious behavior, and self-wounding, emerged from obscurity in the 1990s and spread dramatically as a typical behavior among adolescents.
Long considered a suicidal gesture, is recognized today as offering a short-term release from anxiety, depersonalization, and rapidly fluctuating emotions leading to the lessening of tension, grounding, euphoria, reduced anger, satisfaction of self-punishment urges, and relief from feelings of depression, loneliness, loss, and alienation.
It represents an emotion regulation strategy providing a sense of control, reconfirming the presence of one's body, dulling feelings, and converting unbearable emotional pain into manageable physical pain.
Before our research, studies of self-injury were conducted almost exclusively by members of the psycho-medical establishment. Many of these "experts" considered this practice addictive. Self-injury was regarded as a disorder mostly practiced, like eating disorders, by teenage, white girls coming from affluent backgrounds.
These studies are limited because they used people in therapeutic or hospital settings as research subjects, who represent only the tip of the iceberg of the broader self-injuring population. When you look at the rest of the iceberg, at people in their "natural settings" who self-injure, you will see a whole different demographic.
And you will see a much broader range of motivations for self-injury and ways that this is defined. We describe the rest of this iceberg in "The Tender Cut."
Beginning in the late 1990s and increasing rapidly in the early 2000s, self-injury began to spread to a wider population and take on a whole new meaning. Self-injury emerged from the closet, slowly at first, but with increasing vitality.
Disaffected, alternative populations seized on it as a way to rebel and express their rejection of mainstream values. Structurally disadvantaged populations such as homeless youth, minorities, the poor, and people in prisons and juvenile detention centers, turned to it out of frustration. Ordinary teenagers adopted it as a way to relieve the travails of typical adolescent development. Older people started revealing their self-injury to establish themselves as a group and differentiate from the "young and trendy" cutters. Young men channeled their anger and rage into injuring their bodies.
Once the media discovered self-injury, it spread like wildfire. People who heard about it, and learned that others had gotten relief from their emotional troubles by doing it, tried it themselves. Wannabes and copy-catters did it just to fit in.
The stigma of mental illness abated, so that people were regarded as being merely unhappy, and possibly too needy. Instead of freaking people out, self-injury became known, especially among youth, as "that thing that people do." As this happened, self-injury left the realm of the purely psychological and became a social phenomenon, spread through social contagion.
Most people use self-injury to deal with anxiety or emotional pain. This can be rooted in deep-seated past issues such as abuse, family dysfunctionality, or chemical imbalances, but it can also be caused by the difficulty of going through typical adolescent self-discovery and social problems. The temporary relief it provides may help people get through difficult periods in their lives.
Although society was initially shocked to discover that people might harm their bodies intentionally, when compared to other ways that people seek relief from pain it offers several benefits: it's not illegal, it's not addictive, it doesn't hurt others, and the body eventually heals. For those trapped in bad situations, it can be a way to make it through until their lives improve.
The largest population of self-injurers still falls within the adolescent years, as most people start when they're in their early teens. The population gets smaller at each decade of life because of changes that occur over the lifespan, with certain key points that encourage quitting. A lot of young people stop during the transition from high school to college. Some give it up when they get a professional job or if their significant other is bothered by it. Others desist when they have children because they don't want to role model this behavior for them.
The psycho-medical community offers many solutions to people looking for help in dealing with their self-injury. Outpatient therapy, drugs of all sorts, and specialized clinics that offer inpatient treatment are all available.
But in addition to these, and as a free alternative, a host of support groups have sprung up on the Internet where self-injurers can find others like themselves who offer understanding, advice, social and personal acceptance, and community. Available in a range of philosophies and stages along the self-injury career from early onset through recovery, they provide an outlet from the pain of inner isolation, social rejection, and struggle with the practical issues of daily living with this coping mechanism until better ways of resolving life's struggles can be forged.
These sites offer not only help but an alternate to the psycho-medical community's model of self-injury as pathological. They aid people in realizing that this behavior does not mean that they are crazy, weak-willed, sick, or bad.
In fact, our longitudinal data show that many people who struggle with self-injury during their formative years, like those who try drugs, eating disorders, or delinquency, grow out of it to live fully functioning productive lives as professionals, parents, spouses, without further problems.