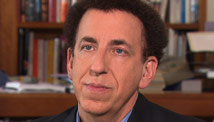 Dr. Dean Ornish, founder and president of Preventive Medicine Research Institute and a clinical professor of medicine and the University of California in San Francisco,  designed a program to reverse heart disease.  Rather than pills or surgery, he supports using lifestyle and diet modifications to undo damage related to cardiovascular health.
In a 45-minute chat hosted by CNNHealth, he answered a series of questions about diet, lifestyle and heart health from @cnnhealth's Twitter audience, using #LastHeartAttack. Here are some of the questions he answered.
satya33: Is it important to have Omega 3 + 6 everyday? How much & which food sources would you suggest?
DeanOrnishMD: Omega-3 fatty acids are remarkable– they can reduce sudden cardiac death by up to 80%, reduce risk of cancer... even raise your baby's IQ! Take 3-4 grams/day of fish oil or plankton-based omega-3's, ones that take out bad stuff.
Ornish: Asking the right questions about health care
debsmith211: Does beef really put a strain on your heart?
DeanOrnishMD: Beef increases your risk of heart disease as well as colon, breast, & prostate cancers. And increases global warming.
The 'heart attack proof' diet?
ChanchalSHayr: Is there a vegetarian option for omega-3, instead of fish oil?
DeanOrnishMD: Yes, several brands of vegan omega-3's including Martek. Fish get omega'3's from eating plankton.
NWAngel: Heart disease is #1 killer of women. Are the risks & or treatments different than for men?
DeanOrnishMD:  Even more women die from heart disease than men. Lifestyle choices to prevent & reverse heart disease are about the same.
Learn more from the American Heart Association
reidiculous1: Will flax-based omega-3 supplements do the trick?
DeanOrnishMD: Flax provides DHA but not ALA, so it's good but not as beneficial as fish oil which provides both.
Docosahexaenoic acid (DHA) is an omega-3 fatty acid found in fish oil supplements.  Alpha–linolenic acid (ALA) is a type of omega-3 fatty acid found in plants.
kenleebow: What are your thoughts on being heart attack proof by having a total cholesterol of 150 or less?
DeanOrnishMD: It's a good start but not enough to be heart attack proof. Also need moderate exercise, meditation, and love/support.
spinningvitamin: What do you think about soy protein supplement powder?
DeanOrnishMD: Soy is good in diet but you can get too much using the soy supplement powders, so I don't recommend them.
RPG80 asked: Eating like a vegan takes planning. Where can i get good tasting recipes to eat like this every day?
DeanOrnishMD: "Everyday Cooking with Dr. Dean Ornish" has hundreds of easy-and-quick-to-make delicious vegan & vegetarian recipes.
DrFinke: Are there risks of too much soy for women?
DeanOrnishMD:  You can get too much soy from powders/supplements but not in a normal whole foods diet. Soy reduces breast cancer risk.
RecoveringFoody: Dr. O's view on olive oil contradicts what we hear. Is olive oil really terrible for you?
DeanOrnishMD: The Lyon study showed that a Mediterranean diet high in canola oil (not olive oil) & low in meat reduced heart attacks.
What your cholesterol number really says
SuzZenCrow asked: Can I keep my iron up & go vegan? I have chronic anemia, high cholesterol, ulcer.
DeanOrnishMD: An ulcer will cause you to lose microscopic blood & iron, so most important is to treat that (more). You can take iron supplements if needed, but most people have no problems getting enough iron in their diet.
Viartist_23 asked: Is it true that cholesterol can cause blind spots in eye?
DeanOrnishMD: Amaurosis fugax is temporary blindness in 1 caused by reduced blood flow, which too much cholesterol can promote.
goodskinla asked: Are avocados really OUT?
DeanOrnishMD: Avocados are high in fat so they're high in calories; if you don't have heart disease, they're fine in moderation. If you don't have heart disease, you have a spectrum of choices– check out www.ornish.com for more info.
DrFinke asked: Vegan assumes no fish. Is it better to supplement DHA/ALA or eat fish? Is there a difference?
DeanOrnishMD"  Fish oil supplements are better if they remove the bad stuff (mercury, dioxin, PCB) that are found in almost all fish.
Will you have a heart attack? These tests might tell
spinningvitamin asked: Are there some non-soy protein powders that u feel are beneficial & safe? Feel protein deficient.
DeanOrnishMD:  Most people aren't protein deficient; eat more high-protein foods (soy, rice & beans, etc.) Whey powder not soy.
Neal56 asked: In a vegan diet, where do you get your protein and fat? Both are necessary for rebuilding your body.
DeanOrnishMD: If you eat a variety of vegetables, whole grains, and soy, you'll get enough protein on a vegan diet. And legumes (beans, etc.). If you're not ready to be a vegan, eat a few vegan or vegetarian meals each week.
DeanOrnishMD
: Thank you so much– these lifestyle changes make you feel better as well as live longer, which makes them sustainable.