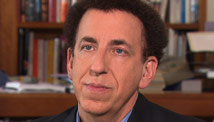 Thomas Pynchon once said: "If they can get you to ask the wrong questions, then they don't have to worry about the answers."
Here's the wrong question: Should we cut back on or even dismantle Medicare, or should we just keep raising taxes and let the deficit continue to increase unabated? Since neither choice is optimal, the debate - some say debacle - in Washington these past few weeks about how to deal with our rising deficit, much of which is due to rising health care costs, has polarized and paralyzed our country.
There is a third alternative: When we address the underlying causes of most chronic diseases - our lifestyle choices - our bodies have a remarkable capacity to begin healing, and much faster than was once realized. When we address these lifestyle causes, then we can make better care available at lower cost to more people. And the only side effects are good ones.

When I lecture, I often begin by showing a slide of doctors busily mopping up the floor around an overflowing sink, but no one is turning off the faucet.
Many people tend to think of breakthroughs in medicine as a new drug, laser, or high-tech surgical procedure. They often have a hard time believing that the simple choices that we make in our lifestyle - what we eat, how we respond to stress, whether or not we smoke cigarettes, how much exercise we get, and the quality of our loving relationships and social support - can be as powerful as drugs and surgery, but they are. Often, even better.
Although cardiovascular diseases kill more people worldwide prematurely than just about all other causes of death combined, heart disease is almost completely preventable and even reversible today if we simply put into practice what we already know.
The same lifestyle changes that can prevent or even reverse heart disease also help prevent or reverse many other chronic diseases as well. For example, in the EPIC study, patients who never smoked, were not overweight, had at least 30 minutes/day of physical activity, and adhered to healthy dietary principles (high intake of fruits, vegetables, and whole-grain bread and low meat consumption) had a 78% lower overall risk of developing a chronic disease. These included a 93% reduced risk of diabetes, an 81% lower risk of a heart attack, a 50% reduction in risk of stroke, and a 36% overall reduction in risk of cancer than participants without these healthy factors.
For the past 35 years, my colleagues and I have conducted a series of randomized controlled trials showing, for the first time, that heart disease is reversible simply by changing diet and lifestyle. Because of this, we appreciate that Medicare is now covering "Dr. Ornish's Program for Reversing Heart Disease," the first time that Medicare has covered an integrative medicine program. Since reimbursement is a primary determinant of both medical practice and medical education, this is a game-changer.
Our research also showed, for the first time, that these same lifestyle changes can slow, stop, or even reverse the progression of early-stage prostate cancer. We also found that these lifestyle changes beneficially altered the expression of over 500 genes in only three months, "turning on" protective genes that prevent disease and "turning off" oncogenes associated with breast cancer and prostate cancer as well as genes that cause heart disease, oxidative stress, and inflammation.
Learn more from the American Heart Association
In collaboration with Dr. Elizabeth Blackburn, who received the Nobel Prize in Medicine two years ago, we published the first study showing that these lifestyle changes increased telomerase, the enzyme that lengthens telomeres, which are the ends of our chromosomes that control how long we live. Even drugs have not been shown to do this. As your telomeres get longer, your life gets longer.
These findings are capturing the imaginations of many people. Many people believe, "Oh, it's all in my genes, there's not much I can do," what I call "genetic nihilism." Now, we understand how dynamic these mechanisms are, even on a genetic level, which are giving many people new hope and new choices.
Also, type 2 diabetes, high blood pressure, and elevated cholesterol levels may be reversed by making these same lifestyle changes. More than half of Americans will have diabetes or be prediabetic by 2020 at a cost to the U.S. health care system of $3.35 trillion if current trends go on unabated, according to health insurer UnitedHealth Group Inc. The ravages of diabetes - heart disease, blindness, amputations, impotence, kidney damage - are completely preventable for most people by changing diet and lifestyle.
In 2006, according to the American Heart Association, 1.3 million coronary angioplasty procedures were performed at an average cost of $48,399 each, or more than $60 billion; and 448,000 coronary bypass operations were performed at a cost of $99,743 each, or more than $44 billion.
Despite these costs, many people are surprised to learn that randomized controlled trials found that angioplasties and stents do not prolong life or even prevent heart attacks in stable patients (i.e., the vast majority of those who receive them). Coronary bypass surgery also does not prolong life.
In other words, Americans spent more than $100 billion in 2006 for these two procedures that are dangerous, invasive, expensive and largely ineffective, most of which could be avoided by making comprehensive lifestyle changes instead. The major benefit of angioplasty and bypass surgery is to reduce angina (chest pain), but similar or greater reductions in angina occur in only a few weeks by making comprehensive lifestyle changes.
From omnivore to vegan: The dietary education of Bill Clinton
My colleagues and I conducted demonstration projects at hospitals throughout the country to determine if comprehensive lifestyle changes could be a safe and effective alternative to bypass surgery or angioplasty in those who were eligible to receive it.
After one year, almost 80% of people were able to safely avoid heart surgery or angioplasty, and Mutual of Omaha calculated saving almost $30,000 per patient in the first year. In a second demonstration project with Highmark Blue Cross Blue Shield, these comprehensive lifestyle changes reduced total health care costs by 50% after only one year and by an additional 20-30% in year two and year three when compared to a matched control group.
The idea that changing lifestyle is difficult if not impossible, but taking a pill is easy, is not what the data show. Two-thirds of people prescribed cholesterol-lowering drugs are not taking them just a year later, whereas adherence to lifestyle changes was 85-90% after one year.
Why? Because cholesterol-lowering drugs don't make you feel better, but lifestyle changes do. What is sustainable are joy, pleasure, and freedom, not risk factor reduction. Most people who have heart disease become free of chest pain after just a few weeks when they make comprehensive lifestyle changes.
When you eat a healthier diet, quit smoking, exercise, meditate, and have more love in your life, then your brain receives more blood and oxygen, so you think more clearly, have more energy, need less sleep. The latest studies have shown that your brain may grow so many new neurons that it may get measurably bigger in only a few months - this was thought to be impossible only a few years ago. Your face gets more blood flow, so your skin glows more and wrinkles less. Your heart gets more blood flow, so you have more stamina and can even begin to reverse heart disease. Your sexual organs receive more blood flow, so you may become more potent - the same way that drugs like Viagra work.
For many people, these are choices worth making - not just to live longer, but also to live better.