Editor's note: Jennifer Seitz is a senior editor at CNN.com, and the mother of three.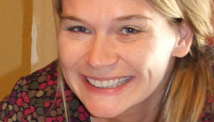 Birth stories are more than just the epic tale of how we all got here. They're a way of sharing one of the most profound experiences of life.
I've heard many, many of them, and not just on hospital visits to see friends with newborns, but also upon meeting new friends or coworkers who gave birth years ago, and even unsolicited from strangers for simply walking around pregnant.
I'm not an expert on childbirth, but I've done it three times. And I've watched many of them (TLC's "A Baby Story" is many a pregnant lady's addictive TV, especially the closer she gets to the due date.)
Websites abound to share birth stories, too, just to meet the demand of people who are compelled to talk about them and others who are desperate to know as much as they can about them, maybe in preparation for their first.
Why? Because, wow, it's scary. Fear of the unimaginable, unbearable pain we've heard so much about makes us afraid of giving birth. Some young women say they will never have children because they can't imagine going through such an inconceivable thing. I was one of those.
But then, when you are pregnant, you try to talk yourself out of all those years of conditioning as the due date looms. The excitement is accompanied by panicky anticipation.
Childbirth classes and methods and books are an effort to alleviate some of that fear.
I had what could be described as a typical childbirth for my first, my precious daughter, who was born a decade ago. Upon my very first active labor contraction after my water broke, I immediately demanded an epidural for pain that was very real and very scary, kicking off what would not be an "easy" childbirth.
I officially became a terror teller (can you believe they were running out of epidural and I pushed for hours until the point they threatened a C-section?!), although the childbirth was medically uncomplicated and resulted in a vaginal delivery of a wonderfully healthy baby less than eight hours later.
Fast forward eight years, and I was halfway through my second pregnancy, and still terrified. This time, it wasn't fear of the unknown, but fear of exactly what I knew! As much as I was thrilled with the growing baby inside, I couldn't help but be worried with the baby-getting-out part of the deal. A friend was going through hypnobirthing classes for her first child, and I was intrigued. She wouldn't listen to negative stories.
My friend explained that the hypnobirthing method is based on the fear-tension-pain cycle theory, that fear causes tension, which in turn causes unnecessary pain in childbirth. I realized my fear probably wasn't doing much for me, but I still had it.
I didn't attend a hypnobirthing class or read a book, but I encountered more of this kind of thinking when I walked into my pregnancy chiropractor's office. They work with a lot of the labor doulas in town and are believers in the home birthing movement, neither of which I was planning for my birth. When they told me, "We are going to prepare you for a fast and easy childbirth," let's just say I was far from believing.
Some of the messages I heard along the way were hard to refute, though. The most influential one being:
"Your body knows exactly what to do. Just trust your body."
It must have sunk in, along with the Webster technique the chiropractors used to help position me and baby for birth. I knew I would be with a doctor in a hospital, but I really wanted a more relaxed experience for my second birth.
And it happened.
I didn't have a goal of a natural childbirth, but I did believe that the fewer interventions there were (including Pitocin and epidurals), the less delays and possible risks there would be. My new doctor was on board.
I had a completely drug-free birth after a four-hour labor. I was relaxed, so relaxed, in fact, that I was caught on video doing the Cha Cha Slide with my then-8-year-old daughter at 7 centimeters. I will not say there was not pain, especially in the 8-10 centimeter range after she went home, because there was.
It hurt. Fiercely. But, I was calm, and it was manageable with intense focus and awesome support.
Fear started to creep in during that transition phase, the most intense part of labor, and the question racing in my head was, "How much worse is it going to get?" That unknown had me nearly convinced I couldn't do it. I was on the verge, and I asked for pain medication. My husband and doctor were so encouraging about how close I was that it was easy to decide to keep going. The exchange went something like this:
Me: "I can't do it."
Dr. Vanoyan: "What do you mean, you ARE doing it."
Me: "I can't do any more than this."
My husband, Scott: "You can. The contractions aren't going to get any more painful … they will just be closer together."
I hadn't heard that little gem before, and I really liked that idea. I went with it. I knew what I was up against! I remembered that my body knew what to do, the fear passed and the baby was born within 10 minutes.
I was so focused on the emergence of my son that time and space slipped away until my visualization of him arriving actually happened, following three pushes in less than seven minutes. Was I hypnotized? Maybe! We had a brief delay while the doctor unwrapped the umbilical cord from around his neck, but all was smooth and an overwhelmingly positive birth experience with an adorable baby boy.
Second births may always be easier than firsts, since the body has gone through it before and the trail is blazed, if you will, but there is still a new miraculous journey every time. My third childbirth, for my almost six-month-old son, also clocked in at about four hours. It was natural, too, and prompted the delivery nurse to remark "What an amazing birth!"
Many medical interventions save lives in the multitude of circumstances where things go wrong. But I turned to mine during my first birth out of a deep fear that wasn't necessary.
I don't think there is such a thing as a painless childbirth, or one that is not fraught with the worries, hopes, wishes and most paramount concern of a brand new life. But, it can be relatively 'easy' if you replace fear with trust in yourself.
It doesn't have to be a tale of terror. It is possible to feel ease instead of panic, which could be the core lesson of all the childbirth methods out there. Each positive birth story breaks the cycle. Do you have one?