Editor's note: CNN contributor Amanda Enayati ponders the theme of seeking serenity - the quest for well-being and life balance in stressful times.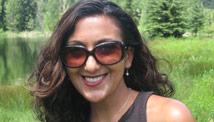 It has become inevitable that each year, at some point in August, my husband will begin talking about new classes, new wardrobes, new gear and the very long list of things we need to do in preparation for the kids to go back to school.
And every year, this is all I hear him say: "Blah blah blah blah kids go back to school."
My own early school years were spent in Iran and several Western European countries (after I fled the revolution), where back-to-school just meant you got up early one morning in the fall and went back to school.

There were no special shopping trips, play dates, orientations, parent meetings, fundraising events, committees, after-school enrichment scheduling or educational effectiveness strategy sessions that I can recall.
These days, back-to-school is science — elevated, almost, to the ranks of a "Hallmark holiday," complete with its attendant frenzy. I would not be surprised at all, for example, if there's a back-to-school greeting card, balloon and stuffed animal gift set for sale in a superstore somewhere. Or if someone in Manhattan is offering her pricey services as a back-to-school consultant.
So here I sit once again, staring down another school year, trying to beat back the dread of those first few weeks of chaos.
"Back to school is a time when anyone who tends towards neurosis is going to get a big boost," says Kristin Carlson, working mother of two, from Glenwood Springs, Colorado. "First of all, there's the journey to buy back-to-school supplies, for which we always seem to be on the late end. Somehow I'm the last parent to get the memo and by the time we arrive at the store, there are exactly three loose-leaf notebooks and they're either this burnt orange or swampy green color that neither of my kids wants. And of course my child will end up sitting next to the kid with the immaculate My Pretty Pony Trapper Keeper."
(Mental note: Go to the store this week. Buy Pony Trapper Keeper.)
She continues: "Then there are lunches. You want the lunch to be healthy, but you want them to eat it. And you also don't want some kid to look over and go: 'Eeeew! What is that?!'"
(Mental note no. 2: Don't ever pack Ghormeh Sabzi for kids' lunches.)
"And sports. There's the announcement for tryouts, which my friend missed one year. But then there's also the physical, which we have to do in our town in order to participate in sports. We have a fantastic program where our medical center does free physicals for anyone going back to school. That announcement's in the paper. We pay attention, but it's amazing what you miss. It always ends up becoming this crazy last-minute dash. The parent nights, the fundraising, the doctor and dentist appointments, the tutoring ... " Kristin trails off.
I'm getting a sweat mustache just listening to her.
"And forget about my old nemesis, the Parent Portal!"
I ask myself: What kind of evil device is this?
"It's a website that tells you things like if your child is in his seat on time everyday or whether she's turned in her assignment. If your child misses anything, it will be on the Parent Portal," she says. "And the thing is, I don't even know my password for the Portal. I rebel against it. But then I also feel guilty because I think I should be checking it."
I hang up in hives and immediately reach out to Dr. Patricia Farrell, licensed psychologist and author of "It's Not All In Your Head," to get some advice.
"It's important to remember that it's normal to feel anxious," Farrell tells me. "It becomes an issue when you are frozen by the anxiety. Parents have to look within themselves and see what is making them so stressed. They also have to be aware that there is something called 'contagion in anxiety.' You can become anxious simply by being around stressed-out people. Children are particularly vulnerable to contagious anxiety. If their parents are stressed, children see and feel it. They model that stress, almost take it in. They see you as the person who is going to guide, support and care for them. So if you're not able to handle stress, how can they?"
I ask Farrell for tips to make the back-to-school transition smoother and less stressful for both parents and their children. Her suggestions include:
Establishing routines. You want children to have the best possible orientation toward school. It's really important for children to have a routine - and that includes bedtime, because if kids do not get enough sleep, it's going to affect their performance in school.
Begin to establish some routines a few weeks before school begins. This will ease both you and your children into the school year, rather than creating an abrupt and possibly stressful start.
Organizing activities and materials. Anxiety becomes compounded by a lack of organization. Create a schedule for both school-related and after-school activities. Also, work with your children to organize the place where they will keep their books and materials. But avoid overscheduling and endless to-do lists: relaxing and playing are just as important to your child's development as active learning.
Communicating with your child. Allow your child to talk about how he or she feels about going back to school. Avoid hovering or being overprotective. Instead, ask her what she's looking forward to and whether she has any concerns. Once you find out what the concerns might be, you can begin to address them.
If your child seems particularly nervous or frightened and the issues appear to be more than you can handle, don't feel like you have to be the expert. Look for resources in your community or even get a referral and go for a few sessions with a specialist.
And what about parents?
Taking some deep breaths. "Everyone has to learn a little bit of self-help. It's not bad for both parents and children to learn some breathing relaxation techniques," suggests Farrell.
Breathing relaxation is very comforting. It has a calming effect, and there is a physical reaction to it.  It has to do with carbon dioxide levels in your blood. It's a powerful way of relieving tension and bringing about a sense of well-being. And though you might need quiet time for meditation, you can do breathing exercises anytime and anywhere. (You can find scores of breathing relaxation exercises, including Farrell's, on YouTube.)
And most important, perhaps, is the willingness to accept that there is no such thing as perfection. But what may come close is the blur of the sweet memories of childhood summers and school years melting into one another.