Editor's note: CNN contributor Amanda Enayati ponders the theme of Seeking Serenity: The quest for well-being and life balance in stressful times.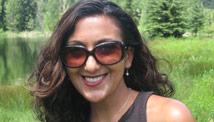 One of the most stressful things about having a health crisis, aside from the fear of death, is the lingering paranoia.
It's like that houseguest from hell who invites himself for a visit and then decides he will never leave. Because here you are, trucking along for 30-some-odd years, assuming that that the achy back is from the Kundalini yoga move gone awry and that lingering cough is from the cold you caught from your frenemy.
But once you've sparred with a serious illness like cancer, almost overnight you start seeing conspiracies to off you everywhere. Joyful, grateful and almost giddy you are to have survived at all, you bob up and down in constant waves of stress and anxiety. They can build to near-tsunami proportions each time you lose another friend who got her diagnosis at the same time as you or sat there beside you while you both received chemo or chatted with you in the waiting room during radiation.
And so if it doesn't resolve within a day or two, the achy back becomes bone cancer and the lingering cough becomes lung cancer. More than likely, it's all in your mind.
But then you also start remembering that thing you read in the Quarterly Journal of Om Shanti about how dwelling on something for too long can actually go on to create that condition so then you become totally and utterly paranoid. At this point, you fear that though you probably didn't have an illness last week, you've probably now created it by obsessing about it for the entire past week. Thus, you're putting it out there into the universe which - collusive son-of-a-gun that it is - happily obliged by now giving you a case of incurable something or other.
Some people call it the Law of Attraction. (What, you thought the Law of Attraction is just for the good stuff?)
And, in my case, you would think that having almost annihilated myself the first time around by putting off a doctor's visit for more than a year - and thus advancing a potentially simple case of cancer-caught-early to a full-blown, late-stage, kick-some-behind-and-take-some-names cancer - I would now be hopping off to the doctor at the first sign of a toe ache.
You would be wrong.
Because fear runs deep and so does denial. And also because I now begrudge doctors for: a) having completely messed up my lifelong delusion of being the healthiest person in the room; b) making me bald for the second time since I started retaining memories (the first time, courtesy of a Middle Eastern tradition of shaving your child's head so their hair will come back fuller which, by the way, is a bloody myth); and c) injecting me four times with a chemo drug known as the Red Devil. I'm not kidding. It's really called that.
"At least go see a primary care physician," urges my husband. "Get those swollen lymph nodes in your neck and that cough looked at."
"I don't have a primary care doctor." I respond. "Just my oncologist."
My husband gives me a look: "That's like having no way to get to work other than a plane."
"Well, I never really needed a doctor because I was always the healthiest person in the ... don't roll your eyes at me!"
But since by this point, the stress of unresolved symptoms has become more unbearable than the symptoms themselves, I call my husband's new primary care physician first thing the next morning.
I get an appointment for two hours later. Given that I've been told most doctors around here are booking weeks and months in advance, that right there should have been hugely telling.
I pack up my kid, and we drive to an old medical building down the street. We park and step into a 1960s time warp. I can't figure out how to maneuver the old-school hand-crank-operated elevator, so we walk up the two flights of stairs to the doctor's office. We fill out endless paperwork, hand over the co-payment and wait until we're called.
With his bald head and graying Friar Tuck fringe of hair, the doctor looks older but when I examine him closely, I notice that his face is unlined. He is peculiar in a way I can't quite put my finger on.
Maybe it's his monotone or his occasional outbursts of "zip, zip, off you go!" when he wants me to get on or off the examination table. Or that he checks my blood pressure three times. Or that my visit, which is about lingering flu symptoms, somehow culminates in him irrigating my left ear and introducing me to the food pyramid.
He looks in my throat, in my ears, in my eyes, listens to my breathing, feels my neck and my spine and declares me to be on the mend from some kind of virus that "must be making the rounds." 
I feel relief, albeit a qualified one - the kind of relief I might feel when my old uncle Haji Mammad Agha, who considers himself an expert on medicine because he used to import and export medical supplies between Iran and Djibouti, gives me his very authoritative opinions about my ailments.
When I tell my husband about my appointment later, he laughs and says he had an odd experience during his last visit too. He says: "I went to see him because my back was hurting from working out and he just told me to stop bending over ... ever. Which I thought was kind of strange."
"But," my husband points out, "he did go to medical school inSanta Cruz."
"There is a medical school inSanta Cruz?" I ask.
"I guess so." He shrugs.
I go to Google and confirm that there is no medical school inSanta Cruz. Maybe my husband got it wrong? Or maybe the doctor attended the Colegio Oficial De Médicos de la Provincia deSanta Cruz de Tenerifeon theCanary Islands?
Either way, I'm thinking I'm going to leave it at that. I do feel better, after all. The cough is resolving, my back feels better and the swollen lymph nodes are receding. And the stress is mostly relieved ... for now.
Also, maybe some things are just not meant to be scrutinized that closely.
Follow @CNNHealth on Twitter.