Goodbye spontaneity. Hello, Excel spreadsheet.
It's only Day 3 and it dawned on me how much I have to plan.
When I wake up, I visualize my bento box divided into food groups: vegetable, fruits, protein, dairy and grains.
Have I planned my next meal? Have I covered all my food groups? How much does everything cost?
I started a weeklong challenge to eat closely to MyPlate on a budget of $61.27. This is far easier for a single adult, than a family with children and picky eaters.
My budget includes groceries and eating out.  I plan to eat at restaurants as I normally would, as long as it's within budget and the nutritional guidelines.
My lifestyle has already changed.  In the morning, instead of grabbing whatever I feel like, toast, breakfast burrito or yogurt, I have to think about whether I've hit all my major food groups.
It made me realize a few things:
Epiphany #1: I have to plan.
Doh.
Epiphany #2: I regularly don't get enough fruits and veggies.
One kind reader asked: "Do you have such poor impulse control that you can't eat vegetables?"
I usually eat things like turkey or chicken sandwiches and pasta.  They're not bad for you, but a few  leaves of lettuce on your sandwich and basil sprigs in your pasta don't amount to a bevy of veggies.
My point is that vegetables and fruits were nowhere near half of my food intake, and I'm trying to change that in this challenge.
Epiphany #3: I need to improve my cooking.
To all the healthy foods out there, I apologize if I've made you look like a sad version of an adult's Lunchables.
It's not you, it's me.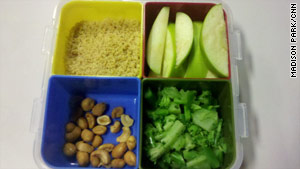 Dear couscous, I know I made you look bland and dull.  You deserve better than that.
For lunch, this was wheat couscous, apples, broccoli and peanuts and cashews.
For dinner, I had a grilled cheese sandwich combining spinach, portobello mushrooms on wheat bread.  I couldn't think of a protein component, so I threw together a "deviled egg."  Except I forgot mustard and mayo.
My brother remarked, "Your deviled eggs look terrible."
So it looked like yellow sawdust.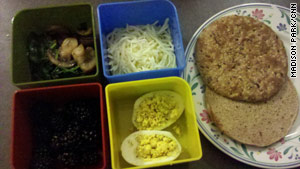 Feeling sorry for my lack of culinary chops, my foodie cube neighbor has graciously loaned me her stack of Cooking Light today, and I hope I can spruce up the menu.
Thanks for all the great MyPlate tips and advice. Catch me on Twitter at @MadisonCNN.
If you're curious, give the challenge a try.  Happy eating!