While writing about the USDA's new food icon, MyPlate, I wondered if anyone can eat like this consistently.
In its color-by-numbers simplicity, MyPlate is a constant reminder of how far my diet falls from the ideal.  Vegetables on my plate are like Sumatran tigers in the wild - they're verging on extinction.
"Comparing the ideal proportions of MyPlate to those of the typical American diet is like holding MyPlate up to a fun-house mirror," Health.com wrote.
"Even if Americans hear the message that they need to eat more fruits and vegetables, for instance, MyPlate's 50% standard may be difficult for many people to live up to."
And here's what iReporters said their ideal versions of MyPlate would look like.  The Pop Tarts and cheese puffs on photo 4 is my favorite.
Having written about a few food challenges, involving Twinkies, school lunches and unprocessed foods, I wanted to put MyPlate to a test.
Could I eat what MyPlate suggests for a week?  And can I afford it on an average American budget?
Here are the rules:
1. Eat as closely to the MyPlate icon as possible.
For the next seven days, I will eat and Tweet my meals.  The food groups will be compartmentalized in my trusty bento box.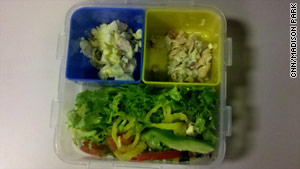 If I can't fill my plate with enough of one food group, I will try to make up for it in other meals during the rest of the day.
This challenge is not about weight loss. This is about eating within the MyPlate icon.
2. Spend only $61.27 the entire week.
A common complaint is that healthy foods like fresh fruits, vegetables and whole grains cost too much.  This challenge would be far easier if I could walk into Whole Foods and buy prepared meals and vegetables.  But that's not possible for most Americans.
The average American household spends about $6,372 every year on food, both groceries and restaurants.
The unit per household, according to the Bureau of Labor Statistics  in 2009, was 2.5 persons.  I've divided the yearly expenditure on food and divided by 2 persons and 52 weeks.
Addictive infographic on how Americans spend on food, sorted by cities
The challenge is to eat healthy within the budget constraints of the average American household.  So groceries will come from mainstream stores.
3. Integrate the challenge into dining out.
Another frequent complaint is that it's hard to make healthy choices when dining at restaurants.
I plan to eat out and order foods that meet the nutritional guidelines. This is tough when restaurants in the South list macaroni and cheese as a vegetable on their menus and your greens are always bathed in fat.
I'll be tweeting from @MadisonCNN.  Send your suggestions or questions.
If you're curious,  give it a try.  Happy eating!