In addition to being CNNHealth's Living Well expert, Dr. Jennifer Shu is a practicing pediatrician and spokeswoman for the American Academy of Pediatrics. Today she'll begin blogging regularly for The Chart on kids' health.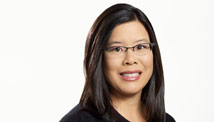 We see it all the time—the 6-year-old riding in the front seat of a car, tweens biking on a busy road without helmets, young children in the neighborhood pool while mom sits yards away talking on her cell phone.
These situations make us cringe but it can be hard to know how we should react. Is it an innocent bystander's ethical duty to approach the parent in the name of a child's safety, or does society dictate minding one's own business?
As a pediatrician I'm constantly counseling parents about their child's safety and well-being, from SIDS prevention to proper nutrition and routine immunizations. Our check-up checklists run the gamut, covering tobacco exposure, lead poisoning, car seats, toothbrushing, risky adolescent behaviors, and more.
While most patients willingly listen to this guidance in the office, it's my job to give them the information and their job to decide ultimately whether or not to take it. But when I step out of my white coat and into anonymity it can be difficult to see the line between offering potentially lifesaving advice and providing what's perceived as unsolicited—and often unappreciated—criticism.
When a child is clearly in harm's way, the decision is simpler, and many people would intervene to help. In the case of bodily injury, there are numerous requirements to report even the slightest possibility that child abuse has occurred.
However, more often than not we are presented with a child who isn't in immediate danger, just potential harm, as a result of a parent's indifference or lack of awareness. My medical background and inborn tendency to be outspoken lead me to err on the side of caution and speak up more often than not. I'm not sure this is always the right answer but it helps me sleep a little better at night.
Have you found yourself in a situation where you've turned a blind eye, hoping that everything would be OK, or did you speak your mind and risk a confrontation? If you've been on the receiving end of someone else's unsolicited advice, how did you take it? I'd like to learn from your experiences and hope you'll share your thoughts!
The information contained on this page does not and is not intended to convey medical advice. CNN is not responsible for any actions or inaction on your part based on the information that is presented here. Please consult a physician or medical professional for personal medical advice or treatment.