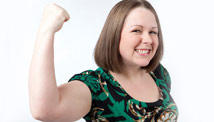 Saturday, June 4, 2011, marks my first ever multi-sport race: The Sedalia Spring into Summer Duathlon. I woke up at 4 .m. to meet my coach, who was also doing the event so we could make the two hour drive to Sedalia, Missouri, together. When we hit town, we had about 15 minutes until packet pickup began so we decided to drive the bicycle course. It was hillier than I'd expected, but I knew I could do it.
The morning started off very hot and humid. We picked up our race packets and went to scout spots at transition. After setting up our transitions, we went for a quick warm-up ride and then back to transition and did a warm-up run. I was worried at this point, because I just didn't feel like I was ready to race.
Ready or not, here we go! Our race was set to start at 8 a.m., after a few minute delay; we started off on our first 2-mile run. It's a flat run course, but not very shady, which would have been nice. We ran along roads, the Katy Trail, and around a pond in a local park. I managed to pace myself nicely for the first run so I'd still have some energy for the following bike and run. I reached transition and pulled my shoes off and put on my helmet and cycle shoes, and off I went on my bike.
The bike course was a little less than 12 miles and as I mentioned, hilly. I knew the bike course was where I'd be strongest, so I focused on powering up hills and recovering down the hills. I was able to pass several people on the bike and maintained a steady pace for the ride despite the wind and temperatures. I made sure to continue hydrating and fueling so that I wouldn't get dehydrated or run out of energy. After the last climb, I was back into transition. Off with the helmet, on with the running shoes.
My second 2-mile run was not as smooth and pretty as the first. It was the same run course, only backwards, which meant we would start running off-road around a pond. I was able to distract myself talking to a nice gentleman most of the second run and persevered to reach the finish line.
Overall, my performance wasn't as good as I'd liked because of the heat and humidity, but I finished and I'm happy to say I was 5th overall woman at the race. As I crossed the finish line, exhausted and sweaty, I thought to myself, "I never want to do another race again!" However, after recovering from the heat, I'm happy to say I'm addicted to multi-sport.