Editor's note: CNN contributor Amanda Enayati ponders the theme of Seeking Serenity: The quest for well-being and life balance in stressful time.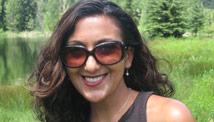 Graduation just passed, but I still have no job. And in a few weeks, I'll have nowhere to live either, and so I'm moving back in with my parents to continue my job search, which I first started almost a year ago. I am so stressed out that I haven't been sleeping. Sometimes I get so anxious, I have difficulty breathing.
That's a direct quote from a recent college graduate in New York who did not even want his first name used. "I'm so wigged out, I'm feeling paranoid," he said.
What was remarkable was that in almost a dozen conversations I had with graduates from all over the country these past few weeks, many kept using virtually the same language over and over again. The commonality of sentiments among people who did not know one another was striking. And though there was a smattering here and there of the hopeful - those who had jobs secured - they seemed by far the exception.
There is stress - and a lot of it - rampant among a population that might normally be quite exuberant right about now: four carefree years of college behind them, hard-earned degrees in hand, a warm breeze blowing through their still-full heads of not-graying hair as they embark upon that heady adventure known as the rest of their lives.
Though my own glass tends to run half-full in the face of disaster, I often resist the urge to point out the upside of things to folks - and especially stressed-out college grads who look like they might turn on you in a heartbeat.
And so I listened, sympathetic, but bit my tongue when it came to telling them everything would be OK.
I had done my homework, however, and I knew there was a case to be made that things are looking brighter - for one, the most recent Job Outlook by the National Association of Colleges and Employers, in which employers indicated plans to hire 19.3% more graduates this year.
So why all the misery?
I took it to the authorities, namely Heidi Shierholz, a labor economist at the Economic Policy Institute in Washington.
"Because that is the lowest bar in the world," said Shierholz. "You can have a big pickup and increase percentage-wise in hiring and still not have a super-rosy scenario, since these past two years things have just been so bleak. You're talking about an improvement from a 70-year trough."
Oh.
So what are all these graduates who can't find jobs supposed to do?
"I often get asked what young people should be doing. My answer is I don't know. It's not my beat. But the most important thing is that if you had a bad outcome, don't blame yourself because jobs are not plentiful. There will be large numbers of young people who can do everything perfectly, and they won't find the jobs and it has nothing to do with them."
It was a kind thought, but since you can't pay off a mountain of student loans and move out of your parents' house with Don't Blame Yourself, I decided to continue asking around.
One of the folks I happened upon was Nitzan Waisberg, an award-winning designer, historian and professor at the Stanford Institute of Design. Waisberg, who vaguely reminds me of Audrey Hepburn, co-created a course called Sustainable Abundance along with her colleague, Debra Dunn. Since it's a form of abundance we are after here, I thought she might have some genius advice on where to find it.
In the three years she has taught the course, Waisberg has advised a number of students in designing and building businesses aimed at serving pro-social causes as wide-ranging as creating personal finance tools to empower first-generation Latino communities, to connecting immigrant women in the U.S. with foodies interested in cooking authentic ethnic cuisines. Not all the students she works with are creative, "design" types, either. Many describe themselves as square, analytical and "accountant-y."
Professor Waisberg described venture after venture in which "students aren't trying to solve gaps in the market per se, but are rather attempting to find ways to create a win-win-win situation" around issues they are passionate about, harnessing their idealism to benefit both themselves and others. And what's more, many students are no longer waiting until they graduate to have impact.
This reminded me of a speech by Bill Gates, in which he spoke about a return on idealism (or ROI) in the context of corporate social responsibility, noting that investing in innovation to tackle social problems is a great way for businesses to stand out, be noticed and earn customer loyalty. Apparently companies are not the only ones who can reap a return on idealism.
Interesting paradigm, this: When all heck breaks loose, create a calling for yourself around some aspect of fixing heck.
And perhaps that is exactly what the new normal is: resilience, optimism and social responsibility in the face of trucks full of lemons. Granted, the path is not for everyone. But for many - and likely more than ever before - it will be.
So what can graduates looking for work in a dismal economic environment do more immediately to alleviate all that stress? I posed the question to Judith Orloff, M.D., a UCLA psychiatrist and author of the book, "Emotional Freedom."
Ditch the fear. So says  Orloff, who is wary of statistics because they frighten people. If a person is fearful, he or she will not be able to look for work effectively or do a good job in an interview. She stresses that "you must do everything possible to overcome your fear and stay in a positive state of mind. Don't indulge negative thoughts."
Reframe the issue. "You may not be able to control what happens but you can control your attitude about it. Take hold of your thoughts. Reframe the challenge as where the opportunity might lie," says Orloff. "Bring yourself back to the present and find action-oriented steps to move forward."
Beware of the vampires. Energy vampires, that is. Orloff suggests steering clear of people who can suck your energy with negative thinking. "Focus on positive people. You want to be around those who can support your balance and abilities."
Quiet the mind. Focus on something positive to calm down the stress hormones. Undertake some form of activity every day - whether it's exercise, prayer, meditation or even a few deep breaths - to relax the body and calm the mind. "You want to get the endorphins flowing - the blissful neurochemicals."
And here's one I'd like to throw in the mix:
Trust Steve Jobs. In a 2005 commencement speech at Stanford, Jobs said: "Of course it was impossible to connect the dots looking forward when I was in college. But it was very, very clear looking backwards 10 years later ... So you have to trust that the dots will somehow connect in your future. You have to trust in something - your gut, destiny, life, karma, whatever. This approach has never let me down, and it has made all the difference in my life."
In other words, have faith that all will be well - a sentiment also echoed by  Orloff: "I have worked with all kinds of people who did not believe in themselves. Once they learned to trust their abilities, their path and their intuition, they went on to create lives that were unbelievable. I have seen miracles happen."