All the news about one of my favorite actresses, Mary Tyler Moore, reminded me of the first time I saw a patient with a meningioma. It was 1995. I was a junior neurosurgery resident, and my professor introduced me to a 69-year-old, perfectly healthy appearing woman. That surprised me at the time, because moments earlier, I had been reviewing her MRI scan. She had an obvious bright mass in her brain located in the right frontal lobe.
I carefully examined the movements of her eyes and face. I checked her motor strength and sensation in her four extremities and completed a full neurological exam. Her long-term memory and instant recall were intact, and she did not complain of headaches. "I wouldn't even know it is up there," she said, referring to her brain tumor.
This pleasant woman had been showing up at the clinic for several years, with a scan in hand to review with my professor. If the mass looked no different, and more importantly, if the patient didn't have any neurological changes – they would simply make a date to see each other again in another year, and repeat the process. They had collectively agreed to not operate on the obvious brain tumor, but instead to watch, wait, and bank on the possibility she would never need an operation in her lifetime.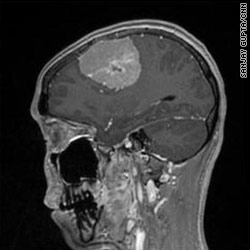 That may sound surprising, given we are talking about brain tumors. Truth is, while there are many types of brain tumors that do require urgent operations, meningiomas are often treated differently. They have such a characteristic appearance on an MRI scan, there is often little doubt when you see one. And, about nine out of 10 times, they are benign. If the tumor is relatively small, the patient is not very young, and there are no symptoms – the neurosurgeon is likely to offer the "watchful waiting" as an option.
Two years later, we did operate on the then-71-year-old woman. Her most recent scan had shown a sudden growth in the size of the mass. Worried that it might continue growing at an accelerating rate, my professor and the patient collectively agreed an operation was the best course of action.
There are other things that may have tipped the scale toward an operation. If the mass had changed in its appearance, and looked more malignant. And, of course, if our patient had started to have any symptoms such as blurriness of vision, seizures, headaches or weakness, to name a few.
These are the types of conversations and considerations Mary Tyler Moore has likely been having with her doctors over the past few years, now deciding an operation was prudent for possibly one of these reasons. By the time you read this, Ms. Moore may have already had the brain surgery necessary to remove the tumor, and may even be scheduled for radiation treatment, which is sometimes necessary if all the tumor cannot be removed. Here is wishing her a speedy recovery.

Each week, CNN's Dr. Sanjay Gupta, also a practicing neurosurgeon, posts a "medical mystery" photo from inside his operating room on Twitter. Follow @SanjayGuptaCNN and tweet Dr. Gupta your best guess!