I have had the most amazing time here in Kona. On Tuesday, I was riding my bike in the lava fields and really taking in the scenery and getting into the groove of the ride. The most difficult thing with the bike has been having control over the bike.
Unlike other bikes I have had in the past, road bikes are really responsive to the slightest movement of the handle bars. Also, our bike rides in Kona have been on the shoulder of a very busy road, which made me anxious. So as I was peddling along, I veered off the road into the gravel, and as I tried to brake it I kept going, and before I knew it, I flew off the bike over the handle bars and my chin hit a lava rock.
The first thing I remember after that was one of the producers (who was biking with me) saying, "What happened, are you OK?" "Just stay right there!" I was still disoriented as the producer was checking for missing teeth and instructing me to get in the car.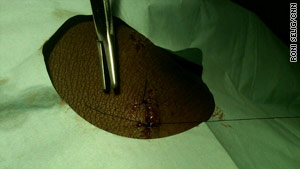 We rushed to the hotel and then the emergency room and the pain was getting worse. I was worried that I may have fractured my jaw, but after the doctor cleaned up a few cuts, took some X-rays, gave me two stitches, and some pain medication, I was as good as could be expected. The thing that made me feel the best was when the producers had told me that I had ridden 12 miles before my fall. That was a personal best.
When I first started this challenge, it was hard for me to bike for five minutes straight, but now I am biking 12 miles and cannot wait to cross the finish line in New York.