Lisa Shives, M.D., is the founder of Northshore Sleep Medicine in Evanston, Illinois. She blogs on Tuesdays on The Chart. Read more from her at Dr. Lisa Shives' Sleep Better Blog.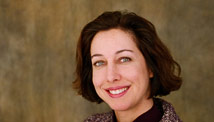 The change of life affects so many aspects of a woman's life. Our female sex hormones, estrogen and progesterone, decrease. That can cause the familiar symptoms of hot flashes, mood swings and memory lapses.  And it can play havoc with women's sleep.
Many of us begin to have sleep difficulties as we go through menopause.   In fact, most studies show that 40 to 50 percent of women start to toss and turn as they age, often associated with hormone fluctuations.
It's true that it's not always hormones. Women can have more than one problem with their sleep.  The first thing to keep in mind is that once women go through menopause, they are just as likely as a man to develop obstructive sleep apnea.
Therefore, if there are other symptoms, such as snoring, morning headaches or weight gain, that accompany the complaint of disturbed sleep, then women, and their doctors, should consider the diagnosis of sleep apnea.  There is a common misconception that only chubby people can have sleep apnea.  This is not true.  At least 20 percent of all apnea patients are normal weight.  In fact, often very thin, petite women have sleep apnea because they are small all over, including the back of their throats.
The decrease in estrogen also can cause night sweats, sometimes so dramatic it's as if a bucket of water has been poured over the sufferer.  Most cannot continue to sleep in the bed because it is like trying to sleep in child's wading pool.  So they get up and change the sheets and make another valiant attempt to sleep.
Interestingly, even women who do not have hot flashes often have troubled sleep as they go through menopause.  Taking great care with your sleep environment is essential, especially being sure that the room is cool enough and dark.  You may have to sleep separately from your partner, either because he or she can't stand getting into the aforementioned wading pool with you every night or because it feels like a deep freeze.  Remember, well slept people make better partners-so whatever it takes to help each other get the sleep you need, that makes for a good relationship.
Some women turn to hormone replacement therapy.  If you're thinking of this, discuss the risks and benefits carefully with either your primary care physician or your gynecologist.  Many women were scared away from using HRT because of the research that showed increased risk for heart attack and stroke, and to a less degree, increase in breast cancer.  However, even the authors of the original research have reformed their analysis and showed that these risks are mostly associated with women using HRT who were far beyond their menopause years. Therefore, many doctors and patients feel comfortable using HRT for one to three years if the woman's menopausal symptoms dramatically improve, especially the problems with sleep.
As with any insomnia, that which is associated with menopause can benefit from cognitive behavioral therapy aimed specifically at insomnia.  Many sleep centers accredited with the American Academy of Sleep Medicine either have a psychologist on staff or have psychologists they work with.  If you can't find a therapist in your area, there are online CBT therapy sessions for patients, but I can't vouch for any of them.  I tried to test one out, but they wanted me to pay. Please.
I can recommend an excellent book by Peter Hauri that also comes with a workbook for the patients.   He ran the insomnia center for years at the Mayo Clinic; it is called "No More Sleepless Nights."  Good luck and sweet dreams.
The information contained on this page does not and is not intended to convey medical advice. CNN is not responsible for any actions or inaction on your part based on the information that is presented here. Please consult a physician or medical professional for personal medical advice or treatment.