Stasia Cirricione is one of six CNN viewers chosen to be a part of the 2011 Fit Nation Triathlon Challenge. She and her fellow athletes each received a new road bike as part of the challenge but learning how to ride that bike, with feet clipped in to the bike's pedals (for greater efficiency), has proven to be a challenge of its own.
To say that I'm afraid of clipless pedals is an understatement. I don't ski or snowboard for the simple fact that I don't like my feet to be attached to something. Going into this challenge, I was most comfortable with the cycling aspect of it, except for riding clipless.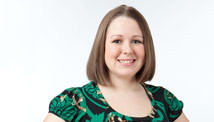 While at our kickoff weekend, we got to practice clipping in and out while on bikes on trainers. It was really nice to be able to practice on a bicycle that wasn't going to fall over. While practicing, we were told that you're not a real cyclist until you've fallen over trying to clip out. Fast-forward a few weeks to March 5.
My bike is here and I'm going to my local bike shop to get fitted. They get me all squared away and my coach says we're going to the parking lot to ride my new bike and practice clipping in and out. I was thinking to myself, "NO! I don't want to scratch my bike on the first day I get it!!!" We went outside and I surprised myself. I did really well clipping in and out the first several times.
On one of my last parking lot loops, I thought I'd heard a car coming up behind me so I pulled over to the side of the lot and unclipped on the left. I panicked because my right foot was still attached and leaned right instead of left, and there you have it, my first fall on my new bike. I "sacrificed the body and saved the bike" as it's said. I've got a nice scrape and bruise on my knee but my bike is unharmed! Whew, what a relief.
After my first fall, both my knee and bike are OK, but I've got a great story to tell and probably a nice scar to go along with it.