Ian Kerner, a sexuality counselor and New York Times best-selling author, blogs about sex on Thursdays on The Chart. Read more from him at his website, GoodInBed.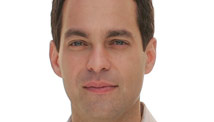 While the movie "The Social Network" may be Oscar history, Facebook is creating real-life dramas that lead to anything but Hollywood happy endings. In the last couple of years, I've seen scores of relationships destroyed by what I call "Facebook bombs" - blasts from the past that leave a relationship shattered to pieces.
If you or your mate are spending too much time strolling down a digital Memory Lane, an emotional affair could be in the works. Here's how to Facebook-proof your relationship:
Don't romanticize the past at the expense of the present.
I'm hearing this real-life story more often: A tale of high school sweethearts trying to go "back to the future," only to realize they should have been content to leave those memories in that old shoebox in storage.
How to reconnect and not be awkward or creepy
In the end, we're only human. We all romanticize the past, men and women alike. And no memories are more potent than those first youthful fumblings. We tend to remember the good parts and forget the bad.
Until the advent of Facebook, though, most of us were compelled to leave the past in the past and move on. But now exes of all stripes - high school sweethearts, college lovers, former hookups - are popping up on Facebook. When two people strike up an online friendship, it's easy to idealize each other and blur the line between fantasy and reality. An intense sense of intimacy is quickly fostered, particularly if intimacy was once shared in the past.
But when one partner starts sharing himself or herself with another person, it chips away at the foundation of their core relationship - and starts building a foundation for a new relationship.
Don't keep secrets.
Here's where friendship and attraction cross the line into emotional cheating. Each person stops sharing certain aspects of the friendship with his or her partner, and starts confiding more in the "friend" and less in his or her partner.
In the past few years, I've heard from at least three exes who wanted to be my Facebook friend or found my website and e-mailed me out of the blue. And while it's tempting to accept these friend requests, or to fire back a quick "of course I remember you" e-mail, I haven't done so. That was then; this is now.
And in those rare instances where I have accepted an ex as a Facebook friend, or written back, I've informed my wife and let her read every correspondence. Not because she doesn't trust me, but because we have nothing to hide. Once you have something to hide, that's where the trouble begins.

 So if an old flame is on your case, just say, "I'm in a relationship now. I wish you all the best."
With Facebook friends like these, who needs enemies?
The instant gratification of Facebook and other social networks stimulates reward centers in the brain - and it's easy to find oneself craving the quick hit of a connection or lamenting its absence. Even without the senses driving attraction, the mind goes into overdrive and imagines that this is the perfect person and the perfect relationship.
Soon, a person may feel like an online friend "knows" him or her better than a partner does. People may feel freer to explore other parts of themselves, while real life (and a real relationship) feels stifling. This artificial sense of intimacy can begin to consume a person's thoughts, which becomes all the more exciting because it's a secret. Most people don't set out to have "e-motional" affairs, and that's one of the dangers of social networks like Facebook.
It often just happens, usually as a friendly relationship snowballs into something more meaningful. A common myth is that only people in unhappy relationships have emotional affairs. In fact, many men and women who commit emotional infidelity report that they were happy when they became involved with their affair partners. Rather than seeking out love (or sex), unfaithful partners gradually blur the boundaries between friendship and intimacy over an extended period of time.
Facebook friends: More powerful than Internet porn
.
As a sex therapist, I tend to hear a lot about people's sexual habits, both when they're with their partner and when they're on their own. Now, it's no secret that when men self-pleasure they often choose Internet pornography over their own erotic imagination. Think of it as the lazy man's way; the difference between reading and watching TV.
However, men who are Facebooking with their exes and falling in love all over again often skip the computer and go back to those potent formative memories to get themselves off. That's how strong the past is - even stronger than Internet porn!
An online affair is fueled by feelings of attraction between two people. You start to idealize the other person and fantasize about what sex would be like. This only adds fuel to the fire. Just like primary relationships, affairs that start out slowly and build a connection before progressing to sex are often the most difficult to break off - and the most damaging to the other relationship.
There's no shame in disconnecting your Facebook account.
Whether you're a man or a woman, if you find you're thinking more and more about the past, and getting to the point where you're fantasizing about what it would be like to be with that person again, it's time to unplug your computer, and get back to "face-timing" with your partner instead of Facebooking with the past. There's no shame in removing the one variable causing all the problems.
Look, in the end we're all living, breathing sexual beings. Attraction doesn't end once we're in a relationship. Even the most happily coupled people are going to feel the familiar buzz of attraction when someone catches their eye or laughs at one of their jokes.
However, while feeling attraction is unavoidable, acting on it crosses the line. Attraction is one ingredient of an emotional affair. In order for attraction to launch into an emotional affair, a person has to also develop intimacy and, eventually, a feeling of connection with that person that supersedes their current relationship. In other words, attraction + effort + intimacy = emotional infidelity. Take away one, and all you're left with is a natural instinct or a harmless Facebook friendship. Put all three together, and with friends like that... your relationship has a new enemy.