Lisa Shives, M.D., is the founder of Northshore Sleep Medicine in Evanston, Illinois. She blogs on Tuesdays on The Chart. Read more from her at Dr. Lisa Shives' Sleep Better Blog.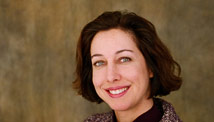 I was at a conference in Aspen last week and on the chairlift a woman told me that this was her first time back skiing after breaking her pelvic bone.  When I asked her how that happened, she said, "Sleepwalking."
Sleepwalking, like night terrors, is classified as a parasomnia, which is any unwanted movement or physical occurrence that happens during sleep or immediately upon awakening.  It is much more common in childhood, with prevalence rates reported between 2 percent to 17 percent.  The peak age is 8-12 years and it is thought that most kids will outgrow this.  It does run in families and if a first degree relative experiences a parasomnia such as sleepwalking or night terrors, then a person is 10 times more likely to suffer from a similar parasomnia.
Clearly not all people outgrow it, and this woman had many stories of sleepwalking during her adulthood.  Although the fall which caused the broken pelvis was the worst event, she had many other near misses which underscores the message that the main health concern is the physical safety of the sleepwalker.
Sleepwalking can lead to actions such as driving, eating or engaging in sexual behavior.  There are rare but documented cases of people engaging in violent and even homicidal behavior while sleepwalking.  We think that there are deaths that are classified as a suicide, for example, when death occurs from jumping from a window or balcony, that might have been accidents secondary to sleepwalking.
The work-up a frequent sleepwalker will often include an overnight sleep study if there is any suspicion that an underlying primary sleep disorder such as obstructive sleep apnea or periodic limb movement disorder could be acting as a trigger of the sleepwalking episode, or if a seizure disorder is suspected.
Other common triggers include:  sleep deprivation, fever, stress, noisy sleep environment, and medications such as antihistamines, sedatives and stimulants including caffeine.  We do not have any evidence that sleepwalking is associated with psychopathology.
If there is no primary sleep or seizure disorder, then our focus is on eliminating the triggers of the partial arousal that then leads to sleepwalking, and of course we also discuss safety measures.  I recommend that frequent sleepwalkers sleep on the ground level whenever possible. I also recommend bells or alarms on doors and windows and heavy curtains on windows.
People often ask if it is dangerous to awaken a sleepwalker.  It is not dangerous, but we do not recommend it.  It is difficult to do and is usually more upsetting to the sleepwalker so we suggest gently leading the person back to bed. If a child has no memory of the event and safety measures are already in place, there is no reason to discuss the episodes as this may only cause anxiety about the sleep experience, which in turn can lead to other problems such as insomnia.
In rare cases where the sleepwalking is very frequent and actions are very dangerous, then we resort to medications such as the benzodiazepine, Clonazepam.
I was amazed to learn that, despite her traumatic injury during a sleepwalking episode, the woman on the chairlift had never seen a sleep specialist or had a sleep test even though she lived in a major city.  I urged her to seek advice and treatment from a sleep physician in order to avoid further injury.
The information contained on this page does not and is not intended to convey medical advice. CNN is not responsible for any actions or inaction on your part based on the information that is presented here. Please consult a physician or medical professional for personal medical advice or treatment.