We don't mean to be killjoys here.
After all, there is nothing sweeter than coconut, chocolate and caramel cookies delivered by adorable Girl Scouts accompanied by a handwritten thank you note.
The brightly colored boxes of  Girl Scout cookies are popping up everywhere - in offices, your pantry and neighborhood. Here's what you might want to know about working off those cookies.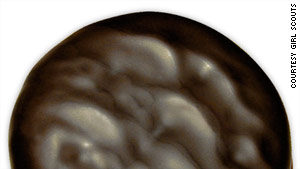 The best seller by far is Thin Mints, raking in a quarter of the cookies' sales. These dark chocolate-covered, mint flavored cookies are one of the lowest calorie treats you can get from the Girl Scouts at 40 calories apiece.
If you eat four of the cookies at 160 calories, you could burn off that energy with approximately half an hour of bicycling at a leisurely pace.
The second-most popular cookies are Samoas (also called Caramel Delites), coated in coconut and caramel with chocolate stripes.
Sorry, folks, but their chewy consistency and sweet flavor pack the most calories of the Girl Scout cookies with 70 a piece.  That's more than non-Girl Scout cookies like Oreos (60 calories), Chips Ahoys (48 calories) – but less than Pepperidge Farm's Sausalito cookies (130 calories).
You could burn that Samoa with about half an hour of walking leisurely on a treadmill. Samoas are pictured at the top of the blog post.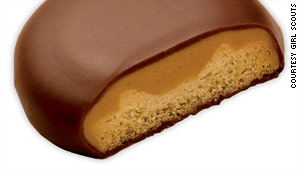 The third most popular cookies are Tagalongs (also known as Peanut Butter Patties), which are peanut butter and shortbread partnerships enveloped in chocolate.  It takes in 13 percent of the sales. One cookie is 70 calories, much like its cousin - the Samoas.  You could burn off eating two of these Tagalongs with a half hour of water aerobics.  For more exercise activities, check here.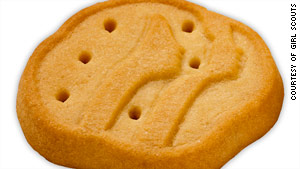 The fourth most popular cookies are Trefoils (also called ShortBreads),  shaped like the Girl Scouts logo.  These contain 32 calories per cookie.
Happy eating!