Ian Kerner, a sexuality counselor and New York Times best-selling author, blogs about sex on Thursdays on The Chart. Read more from him at his website, GoodInBed.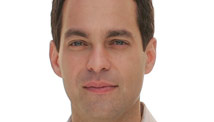 I may be a sex therapist, but that doesn't mean I don't feel the pressure of Valentine's Day just like any other guy.  Not only do I have to be "romantic" but, like many holidays, Valentine's Day also seems to come with a built-in requirement to spend lots of money – which is not a libido-enhancer. So this year, I'm determined to do Valentine's Day my way: affordable, and with an emphasis on sex.
That's not to say it won't be intimate, but this year there will be no extravagant dinner, no flimsy lingerie that will never get worn, no expensive jewelry bought at the last minute—and no possibility of not having sex. All obstacles to sex will be removed. According to CNN, more than 40 million Americans are stuck in sexless marriages, and sometimes it seems like my own sex life is going the way of my gym membership: less frequently used as time goes by, with sessions that are hard on the knees and don't last nearly as long as I intended.
Here's my strategy for the big day (which, alas, just so happens to fall this year on an ever-so romantically challenged Monday):
1.      First, I'll wake up, make the coffee, and tell my wife that I had a really sexy dream about her last night. The brain is the biggest sex organ, and after you've had sex with someone about a thousand times, it's the mental stuff that really stokes the flames. There are two types of sexual arousal—physiological and mental—but too often we emphasize the former at the expense of the latter. So I'll tell my wife I had the sexiest dream ever about her, but keep the details to myself until later, or maybe offer a few tidbits via email during the day—a little anticipation goes a long way.
2.      Before we go head off to work, I'll give my wife a 30-second hug. Sounds like a long time, but studies have shown that hugging for 20 to 30 seconds boosts levels of oxytocin, the feel-good "cuddle hormone" that helps bring couples closer.
3.      If we speak during the day, I'll make an effort to stay positive. Experts believe that the happiest couples have five positive interactions (like cuddling, kissing, or having upbeat conversations) for every one negative interaction (such as bickering).
4.      At lunch, I'll stop off at the drugstore for all of my Valentine's Day supplies. That's right: I'm doing my Valentine's Day shopping at Duane Reade! And I'm not just talking about condoms. These days, you don't have to look further than your local pharmacy to stock up on sexy accessories, from personal lubricants such as Astroglide, to products like K-Y Intense, which has been shown in studies to boost female arousal, to vibrators. Your local pharmacy has come a long way, baby! But if you're still uncomfortable taking your products to the cash register and you want to eliminate the blush factor, you can also do your buying at online stores such as Pure Romance and Babeland which offer a vast array of products and advice. While I'm doing my shopping, I'll also pick up some cleaning products. Yup: Ajax figures heavily into my romance strategy.
5.      Once I'm home, I'll engage in some good old back-breaking "choreplay." This is where the Windex comes in. Sure, cleaning house hardly seems romantic, but research suggests that getting busy washing those dishes could get you lucky between the sheets: Women whose partners help out around the house report being more satisfied with their relationships—in and out of the bedroom. "Choreplay" helps women stop stressing about everything else they have to do and promotes relaxation, which research shows is necessary for women to attain orgasmic bliss.
6.      I'll probably pick up  a light dinner from our local Japanese fave— salmon is always a good choice as when you eat for your heart you're eating for your sex life— and save some chocolate—which is known to increase mood-boosting brain chemicals—for later.
7.      We'll prevent digital distractions by turning off our computers, iPad, and iPhones.
8.      Before transitioning seamlessly into the bedroom, I'll help increase that oxytocin again with lots of hand-holding and hugging, as well as make sure she gets a big whiff of my natural scent, which seems to work as a natural aphrodisiac. Studies suggest that scent is an indicator of genetic compatibility: In fact, women rate a man's smell as the most important feature for determining whether they're attracted to him. I'll also pull out our favorite porn flick. (Okay, that's a joke. My wife and I don't watch porn together. But I do have some sexy photos of her from when we first met and I couldn't keep my hands off of her, and a little trip down memory lane will get things going.)  Also, I'll make sure to have a nice bottle of red wine on hand. Two glasses each is perfect—enough to lower inhibitions, without lowering those all-important physiological responses.
9.      Inside the bedroom, I'll do my best to add some touches that turn our crow's nest into a love-nest: some candles to set the mood, fresh flowers for aromatherapy, and some music that will help lull her into the trance-like state that is so important to female arousal.
10.  Finally, we'll enjoy lots of fun foreplay that includes sharing that fantasy (which I will not share with you, but I bet you have plenty of your own.) If you need some help in that department, feel free to check out my book 52 Weeks of Amazing Sex, which has—you guessed it—52 different sex-scenarios. If technology is your thing, try the new iPhone app Sex Life, which has lots of fun sex suggestions, or a sexy card game Private Affair, which helps couples communicate about sex.
Looking back over this plan, I realize it might sound like a lot of work. But honestly, it's geared to be intimate, fun, romantic, sexy, and inexpensive. And, yes, it will still get us to bed with time to enjoy some post-coital "30 Rock" on Hulu.com, wake up with a kid between us in bed, and be ready to go to work on Tuesday.
Happy Valentine's Day!