Ian Kerner, a sexuality counselor and New York Times best-selling author, blogs about sex on Thursdays on The Chart. Read more from him at his website, GoodInBed.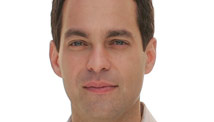 Anyone who's single and dating knows it's a numbers game. All it takes is one person to set you on the path toward happily ever after - or to give you another dating nightmare story.
But how many dates do you have to go on to find "the one"? And how do you know for sure that once you do meet Mr. or Ms. Right, a more attractive, more compatible prospect won't pop up right around the corner?
Science can help us streamline the process. Cognitive science all-stars Peter Todd, Ph.D., of Indiana University in Bloomington, and Geoffrey Miller, Ph.D., of the University of New Mexico, used advanced computer simulations to determine the best approach to find lasting love.
Todd and Miller applied a well-known system of hypothetical decision-making called the "secretary problem" to dating. In this situation, a person must pick the best secretary from a group of applicants who appear in random order, drawn from a pool whose quality is not known. Once rejected, applicants cannot be recalled. It's all about moving forward and making smart choices.
Todd and Miller found that the solution to the secretary problem - and potentially your dating problem - requires sampling a certain proportion of people, remembering the best of them, and then picking the next person who is even better.
So, what's the magic number? In the secretary problem, the ideal percentage for sampling is 37% of a pool of 100 applicants. That means it would make sense to initially sample 37 people, remember the best of the best, and then pick the next candidate who meets or exceeds that standard.
Now, in the real world of dating there are many, many more prospects than 100 (at last count, there were nearly 100 million singles if you count all ages) and for many of us, even dating just 37 people would be far too tiring. You also might be thinking, "Please! I've already dated hundreds of people. I don't need to sample any more candidates. I'm sampled to death!"
Going back to their advanced computer simulations, Miller and Todd raised the number of potential candidates from 100 to 1,000 and proved, to the relief of singles everywhere, that a little bit of searching indeed goes a long way. According to their research, in a group of 1,000 potential mates, only 1 to 2 percent needs to be sampled.
But you do need to set your "aspiration level" - your ideal mate based on a realistic view of who's available and whom you can attract - and date those people you consider to be in the top 25%. That means you shouldn't set your expectations too unrealistically high or low.
In other words, you have to go on roughly 10 first dates, with mates who are within your aspiration level. If after 10 dates there's someone you want to go back to and he or she is available, then go for it. But give yourself those 10 first dates.
Want some other tips to date with science on your side?
Think before you potentially hop into bed on the first date. According to a poll by the National Opinion Research Center, only 1.4% of married couples had sex within the first two days of meeting. The pursuit of sexual gratification plays heavily into the brain's reward centers. The more we pursue something, the more we want it.
If you're really attracted to him or her, go to a dimly lit place and stare into each other's eyes. Researchers at Stony Brook University found that men and women who stared into each other's eyes for more than four minutes said they felt unusually attracted to each other. And enlarged pupils are a sign that we like what we see, and a sexual cue to like us back. Dim lighting causes our pupils to widen.
At some point, lean in and take a deep breath. Liking someone's natural scent is an indication of genetic compatibility.
Be sure to compliment your date. People tend to be most comfortable and to live up to the expectations we place on them. So if you tell dates, "You seem so smart and funny," they will be smarter and funnier and you'll see them at their best.
Don't let your sense of your own attractiveness hold you back. In many studies, men pick women of average weight as their ideal mate as opposed to super-skinny women, and many women find short men who are confident to appear a few inches taller than they actually are.
I personally believe that dating and finding love should be like buying a piece of art - you need to be captivated by someone you want to take home and frame. Yet all too often, we're walking around with our tiny frames trying to fit people into them. We're looking for something or someone rather than really seeing. So dismantle the frame, take some risks and give yourself 10 first dates! If you'd like more dating advice, please visit our experts at Good in Bed.