Lisa Shives, M.D., is the founder of Northshore Sleep Medicine in Evanston, Illinois. She blogs on Tuesdays on The Chart. Read more from her at Dr. Lisa Shives' Sleep Better Blog.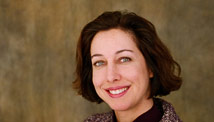 If you're not sleeping well, if your partner complains that you snore loudly or you're finding yourself excessively tired and having trouble concentrating during the day, you may have sleep apnea. It's a common disorder that should be diagnosed by a doctor.
The two most-often diagnosed types are obstructive sleep apnea and central sleep apnea. The bottom line for both is that your breathing is disrupted while you sleep, waking you up sometimes dozens of time during the night, depriving your brain of oxygen and often resulting in fatigue, difficulty focusing and even worse physical problems such as high blood pressure and heart disease.
If you have sleep apnea, chances are, you'll be told you need to sleep with a continuous positive airway pressure machine, or CPAP.
Positive airway pressure is like blowing air into a balloon but in this case the balloon is the patient's throat; when there is air in the balloon (the throat), then the sides of the balloon (the soft tissues in the throat) cannot collapse and the tissues in the throat are propped open. The forced air functions much as a stent would. It is not oxygen therapy, but oxygen can be added.
Sleep apnea is usually adequately treated with a CPAP even if oxygen levels were quite low. When oxygen is added, it is usually because patients have another lung or heart disorder that contributes to low oxygen at night. If patients have emphysema, congestive heart disease or neuromuscular disorders, they will need specialized PAP machines, and may need oxygen as well.
If you have obstructive sleep apnea, your upper airway collapses, either partially or completely, during sleep and the oxygen level of your blood is often low.  You'll also have frequent  very brief awakenings, called micro-arousals, that disturb the quality of sleep and stimulate the sympathetic nervous system (that is the adrenalin, fight or flight response). This puts stress on the heart. The most common symptoms are snoring and daytime sleepiness or fatigue.
Central sleep apnea occurs when the brain, that is the central nervous system, does not signal properly to the diaphragm,  the muscle that controls your breathing. The most common symptoms are frequent awakenings at night and daytime sleepiness or fatigue.
The CPAP is the gold standard therapy for both obstructive and central sleep apnea, although the devices used for CSA function a bit differently from the standard CPAP.
The CPAP gets a bad rap. True, few people say to themselves: "I think that I'd like to start sleeping with a hose strapped to my face." Still, I and my thousands of patients who use CPAP are here to tell you that it is nothing short of a miracle for many people. In fact, the majority of my patients feel so much better that they wouldn't give up their CPAP even if they found out that there are no long-term consequences to sleep apnea.
They use the CPAP because when they wake up in the morning, they feel "like Dorothy landing in OZ," as one CPAP user told me. "My old life, before CPAP, was in black and white; now I live in Technicolor!"
Honestly, I couldn't make up the things that people have said to me in their attempt to praise the CPAP and to describe how good they feel after starting this therapy. One patient likes to call CPAP his "happy pill." Another woman told me that she felt "20 years younger" after one month using her CPAP. Today I saw a patient who said that it CPAP was "life changing." The best to date is an older patient who said that putting on his CPAP mask at night gave him great comfort, "as though someone is cradling my face." Seriously, could I make that up?
CPAP, for the uninitiated, involves wearing a mask that at the very least has some nasal prongs - yes, they go up your nose, and at the most has a mask covering most of your face. Many patients wear something in between,  a mask (I refer to it as the "Bozo the clown") that covers only the nose. There are three basic styles: the nasal pillow mask, in which prongs fit in the nose (why we call them pillows is a mystery to me); the nasal mask, which covers only the nose; and the full face mask, which really means only that it covers the nose and mouth. Rare is the mask that actually covers the whole face. There are many manufacturers and a variety of styles.
There are also several major manufacturers of the CPAP machines themselves. I have worked with them all and they all usually have their pros and cons. It is important that the machine give what we call compliance data, that is, the sleep center should be able to download data that show how many nights patients use the machine, for how long, whether they are still having apneas, whether the mask is leaking a lot, etc. I have seen cheap machines on the internet that do not give such data and do not come with a heated humidifier.
All major insurance companies that I have encountered will cover the more sophisticated machines as well as the heated humidifier that fits onto it. In general, all the major brands of CPAP machines have become smaller and quieter in the past five years. Some machines are easier to use than others if people have arthritis in their hands or other disorders that affect their dexterity. Any mask can be used with any PAP machine.
Studies have shown that usage patterns are set early in the course of CPAP treatment. Patients need very close follow up in the first few weeks or months of treatment. That is why I handle all the CPAP machines and masks at my sleep center. I have a very hands-on approach to prescribing this treatment, and I am starting to see more and more sleep centers take this comprehensive approach to diagnosing and treating sleep apnea. For example, the mask is chosen based on patient comfort, but, at first, patients need the recommendations of knowledgeable sleep professionals. They need to have available to them many masks to try, and I mean take home and sleep with for a week or two. When patients find the right mask for their face and their sleeping positions, the battle to get accustomed to CPAP is usually won.
There are other alternative treatments for sleep apnea, and I will cover them in my next column, but none even comes close to CPAP in terms of effectiveness. If a person will wear the CPAP, then the effectiveness at eliminating apneas, maintaining good oxygen levels, and consolidating sleep approaches 100%. Importantly, there are few side effects, and none is serious. How often are doctors able to offer a treatment that works so well and has no risk of causing harm? No, you cannot suffocate if the electricity goes off because there are little exhalation port holes. And we cannot discount the added benefit of patients feeling that the treatment is helping them. While few people would say that they "love" their CPAP, some do, and the vast majority of my patients say that they love the way it makes them feel and for that they are grateful to the CPAP.