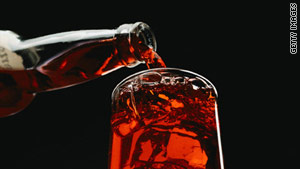 Fitness inspiration can come in many forms - even an unflattering photo of yourself on Google Street View. And the FDA gave a mixed review of the final diet drug up for  approval this year. It'll be the subject of a meeting next week.
Every Friday, we'll give a Web shout-out to interesting, quirky or bizarre diet-and-fitness news and trends. Tell us your suggestions for interesting stories, posts or websites that caught your eye.
No soda for you
Ten-hut, recruits.  The Army will cut down on the fried foods and white bread and pasta for you.
Drill sergeants will give courses in "performance nutrition," reports NPR's health blog.   The changes were unveiled Wednesday at Missouri's Fort Leonard Wood.
Obesity in America disqualifies 27 percent of young adults from military service, according to Mission: Readiness, a group of retired admirals, generals, and other senior military leaders.
Google Street View made him lose it
No, it wasn't the mirror or his expanding pants size that pushed him to a healthier lifestyle.  Bob Mewse, a 56-year-old Brit, was so horrified by an image of him on Google Street View that he went on a diet, according to the Telegraph, a British newspaper.
In the offending image, Mewse was standing at a gas station with a billowing grey "tent-like" shirt.  Nearly 300 pounds at the time, today he has shed about a third of that weight after ditching biscuits and sweets for fruit and salads.  He also joined a gym.
Mewse told the newspaper: "If I can do this, anybody can – I'm just an ordinary bloke. I feel much healthier now."
Hat tip: Diet Blog
Weight-loss surgery for the less obese
An FDA review of the diet pill Contrave said it meets requirement for weight-loss, but "poses potential cardiovascular risks," according to the New York Times.
An advisory committee will consider whether to recommend Contrave  for FDA approval for treating obesity in a meeting Tuesday.
So far this year, the FDA has rejected other weight-loss pills, Qnexa and lorcaserin.